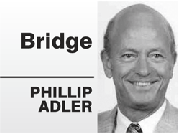 Warren Buffett said, "I don't look to jump over seven-foot bars; I look around for one-foot bars that I can step over."
At the bridge table, if you have the necessary values, sometimes you have to jump. But at least you can do it while staying firmly anchored in your chair.
With that huge hint, it should not be hard to work out what South should rebid in today's deal, after opening one heart and hearing partner respond one spade.
South should rebid three hearts, which shows at least a six-card suit and typically seven winners. This usually equates to 15 or 16 high-card points (perhaps an excellent 14 or an uninteresting 17). This hand is a maximum, but that does not hurt occasionally.
The play in four hearts should not be so tough. After West takes three club tricks and shifts to a spade, South wins the fourth trick with his king, draws trumps, unblocks the diamond ace, crosses to the spade ace, and discards his last spade on the diamond king.
As a defensive point, how should East card so that West knows he can cash three club tricks?
There are actually two solutions. A few pairs lead the queen from ace-king-queen, partner being asked to give a count signal. Here, therefore, East would play first the six, then the three, to show an even number. Alternatively, if West starts with the club ace, East would play his three to deny the queen, the honor touching the two promised by West's lead. Then, West should continue with the club queen and East should signal remaining count, playing the four to say that he has an odd number left