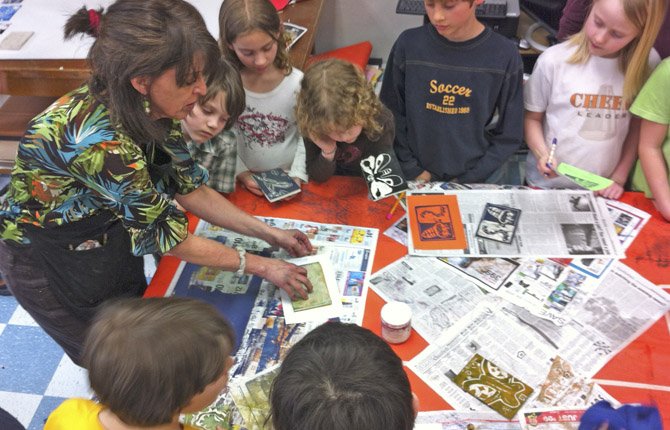 Blown glass chandeliers, original paintings, a trip to Hawaii and more will go to the highest bidders Saturday during the annual Made for Mosier auction.
The event, which will also include a full dinner, entertainment and games, is the biggest fundraiser of the year for Mosier schools.
"This is a wonderful way to raise money for the kids and have a good time doing it," said Susan Vallie, the development coordinator for Mosier Community School and Mosier Middle School.
The charter schools receive 83 percent of the state funding that regular public schools do. The rest is taken by the host district (in this case North Wasco County School District 21) for administrative costs. That means the schools rely on fundraisers like Made for Mosier to make up the shortfall.
"This helps us retain teachers and small class sizes and is also an opportunity to keep the arts in place at our school," Vallie said.
Some of the items up for auction, like a trip to Hawaii and an acoustic guitar, were donated by adults, but Vallie said students have also been working hard to produce tasteful artwork for the auction.
The students worked with several professional artists in the area, such as Toms Royal, who helped them create mosaics. They also worked with Wes Berthold of Nichols Art Glass to create handmade blown-glass chandeliers.
"A group of seven very dedicated students spent the last couple of months working with Wes being mentored in the art of blowing glass," Vallie said.
She said it was fun to see the students work with landscape artist Ellen Dittebrandt to create a landscape of their own. Each student was responsible for one tile and then they blended their tiles together to create one whole painting.
"Honestly, from a distance I would swear it was one of hers. It's just phenomenal," Vallie said.
Students also worked with Holly Griswold, Abby Merickel, Shelley Toon Hight, Laurel Hagner and Jack Coffey to paint Adirondack chairs, blow glass ornaments and more.
Vallie said the goal this year is to raise $40,000 for the schools through the event.
Made for Mosier will be April 27 at Springhouse Cellar in Hood River. Music, appetizers, games, entertainment, a silent auction and wine tasting will begin at 5 p.m.; dinner is at 6:30 and the live auction begins at 7:15. The event is 21 and over.
Event organizers request that people pre-order their tickets, $30 apiece, at Mosier Community School, Waucoma Bookstore in Hood River, Klindt's Booksellers in The Dalles or online at madeformosier@
ymail.com.