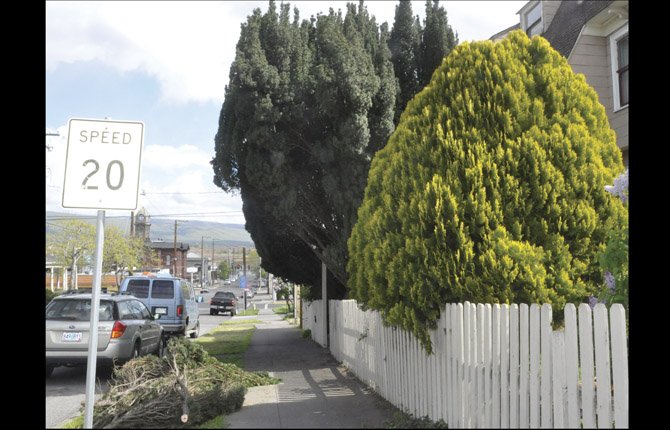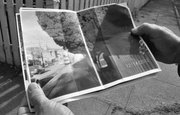 As the weather warms up it's time to get out those lawn mowers and pruning shears to avoid getting a letter from the city's codes enforcement office.
Arthur Geary got one of those letters recently, and last week he was out trimming the trees and bushes that were hanging over the sidewalk at his Union Street property.
He pointed out birds' nests in one of the bushes and said he didn't think the city should order him to chop up the birds' sanctuary during nesting season or tell him to cut another tree during a time of year when it will "bleed sap all over."
"This is a shapely tree," he said of the thick yew tree he was cutting back. "It's like saying someone's overweight and chopping them off at the knees … it doesn't have anything to do with the health of the tree."
Geary said he thought it wasn't neighborly of the city to just send a letter ordering someone to trim the trees by a certain deadline when they might not have the money to hire someone or the physical ability to take care of the problem themselves.
"I'd like it to be more of a conversation," he said.
Nikki Lesich, the city's codes enforcement officer, said she does try to be accommodating. For example, she said she gave Geary four months' worth of extensions to give him time to consult with an arborist as he requested before finally setting last week's deadline.
Lesich said when public safety is at risk or access to something is blocked she is more insistent of a strict deadline but with minor violations she is often willing to stretch it out a little if she feels the situation calls for more time. She said if the person calling in the complaint notes that the property has looked much better in years past she will visit the owners in person to discuss what caused the change.
"Many times there's more to the story than tall grass or junk," she said. "There might be an illness in the family or another life change. I first find out what the situation is and then the timeline becomes one that is workable for the family."
If the property owner is in crisis she will ask them to name a family member or trusted friend she can work with instead to solve the problem.
Lesich said most of her work is complaint-driven. Sometimes the people who made the complaint are surprised when they get a notice in the mail about their own code violations. That's because Lesich uses a "neighborhood approach" by checking out the entire block when she makes a site visit. She said she finds the problems are more readily solved if she encourages the neighborhood to work together.
"I've found if someone doesn't have the means to load things into their truck, someone else has teenagers who can do it in exchange for using space in the truck," she said.
This time of year Lesich is busy dealing with overgrown vegetation, but she also deals with mattresses and other junk in peoples' yards. She also works with someone licensed with the Department of Motor Vehicles to assess and haul away abandoned vehicles free of charge.
"If you have junky cars on your property that you don't know what to do with, call me," she said.
Puncture vine has been a regular problem for the city. Lesich said this year she has abandoned the bounty program for the spiky weed because people often pulled it up at the wrong time and as a result helped spread the seeds further. Last year the city tested out puncture vine-eating weevils on property owned by the city and the school district. She said it was a success and she plans a more wide-spread use of the weevils this year.
In her line of work Lesich often partners with the police department, public health, Mid-Columbia Center for Living, the county codes enforcement officer, planning department and others. She said she sent about 500 letters last year and also made a significant amount of inspections and site visits.
Lesich said she gets people who are resentful of the process, but she also gets messages of thanks from people who say they are trying to sell or rent out a property and are grateful that a neighborhood nuisance has been taken care of. She said her job is about health and safety, but it's also about helping the community look nice and helping people feel good about their property.
"Most people just want to be respected, and they should be," she said. "It's not just about bringing properties into compliance but about working with people to restore their properties and have the pride to keep it that way."
Contact information for the codes enforcement office and citizen complaint forms can be found online at http://www.thedalles.com/newsite/codes_enforc.htm.