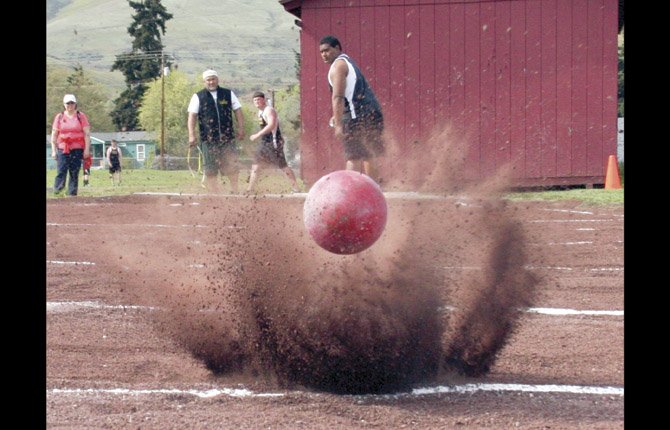 All season long, The Dalles Wahtonka's Lio Tunai and Hood River valley's Eli Fults have been on a crash course for a duel in the shotput as the state's best.
Tuesday, Tunai took on the challenge and fired out a personal record of 54-feet, 11 inches to defeat Fults by more than four feet to take top honors during the annual Hood River Valley-The Dalles Wahtonka Columbia River Conference track and field duel at Sid White Field in The Dalles.
"Lio continues to improve on a daily basis," said TDW coach Garth Miller. "He puts in a lot of work to keep himself up to this level and I am happy to see all of his hard work starting to pay off."
Tunai added a second place finish in the discus with a final toss of 144-06, a place ahead of teammate Joey Duong, who placed third with his 131-00.
David Esquivias added to his impressive marks this year with a top throw in the javelin event, where his best attempt landed in the grass at a robust 134-09.
Zach Nerdin scored top honors in the high jump where he sailed 6-0, ahead of Harris Farr's 5-10.
Farr kicked in a first in long jump, where he hit the dirt in 20-05.50 and sophomore standout Aldo Rivas poured in a 38-02.50 for first place in the triple jump, just a short distance ahead of Nerdin's 37-08.50, which garnered second place.
At 800 meters, junior Elijah Kohltfarber stormed the field in two minutes and 10.66 seconds for first place, Grant Pearson hit at 2:12.91 for second. Kohltfarber tacked on silver in the 1,500 where he crossed the line in 4:33.33.
Nerdin claimed 110-meter hurdle glory with his time of 16.63, Will McClennan finished second at 18.51 and Julio Silva was third in 20.70.
Nerdin toppled everyone in his wake in the 300-meter hurdles where he turned in a 44.24 to win.
The 4x100 relay team of Blake Diede, Farr, Sant Strassheim and Damion Morris put to taks a 45.78 for first place and another TDW team of Christian Garcia, Andres Manzo, Julio Manzo and Rivas scored second place at 46.43.
Farr, Strasheim, Pearson and Mark Johnson added gold in the 4x400 with a time of 3:46.67.
Hannah Schechtel won the shotput at 28-04.50 and she dominated the discus where her 87-11 led the girls team.
Billie Wilson was second in discus at 82-10, Anan Gonzalez place second at javelin with her 80-06 and Katie Conklin soared to a 4-10 to place first in the high jump, just a shade ahead of Yasmin Hill (4-06).
Maya Barnard-Davidson scored first in the pole vault with her 9-00 doing the trick and Hill was right behind at 7-06.
Hill soared to a 14-08.25 in the long jump and Alyssa Valles (30-01.25) and Bri Stavaas-Jamack (25-09.50) were 1-2 in the triple jump.
The 4x400 relay of Avery Cardosi, Emily Morin, Katie Burns and Marta Gamez lapped the field in 4:40.34 for first place.
Added to that, the quartet of Brittany Babb, Burns, Cardosi and Conklin secured top recognition in the 4x100 relay with a clean 54.66.
Babb added second in the 100 meters and 200 meters in 13.74 and 27.92, respectively and Stavaas-Jamack was second in the 400 at 1:14.00.
Morin scored silver in the 800 with a 2:41.10 and she was tops in the 1,500 in 5:25.79.
Jasmine Vasquez added gold to her record on the 3,00 at 12:24.32 and Conklin scored first in the 100-meter hurdles at 18.28.
Burns scored first in the 300-mter hurdles with time of 50.99.
TDW hits the track again at 3 p.m. on Friday, may 3 for the Dean Nice Invitational in Gresham.