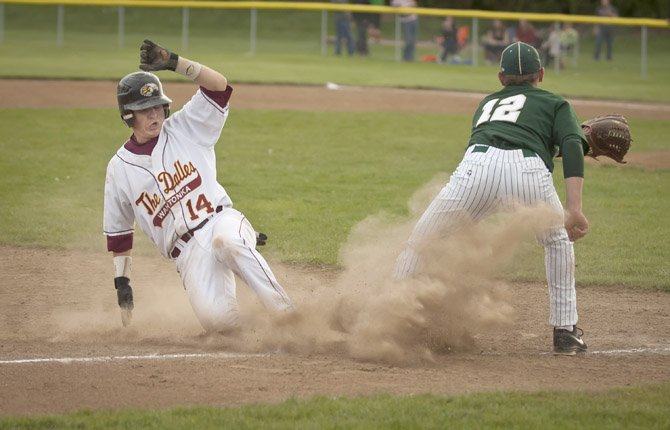 The Dalles — After pulling off a pair of lopsided wins in a doubleheader sweep last weekend in Pendleton, The Dalles Wahtonka coach J.R. Runyon had a hunch things would not unfold in the same manner this time around.
He was right on the money.
In a seven-inning classic matchup, Pendleton and No. 4 TDW exchanged five ties and three lead changes with the Eagle Indians scoring five runs in the bottom of the sixth frame to erase a 10-8 deficit in their 13-10 triumph Tuesday in Columbia River Conference baseball play in The Dalles.
"I thought it was going to be a one or two-run ballgame by the end of this thing and it was three," said the Tribe coach. "Pendleton did a great job of coming back. They answered the call. It was back-and-forth all game long. I am just proud of the way they kept responding. Our guys could have easily given in when they fell behind, but they showed a lot of heart today."
Down by two runs in the sixth, Pendleton skipper Greg Whitten sent in lefty relief pitcher Taylor Hillmick against TDW's bottom of the order.
Steven Bartells led off with a double to right field, and then Kevin Henderson reached on a bunt single.
With the tying runs on base, Dakota Walker worked a six-pitch walk to load the bases for Austin Wilson.
On a full-count pitch, Wilson roped a two-run single to left scoring both Bartells and Henderson to knot the score at 10-apiece.
Leadoff hitter Kaci Kiser was up next and he attempted a bunt to move Walker and Wilson over, but on his try, Hillmick bobbled the ball and everyone was safe.
Justin Sugg drove in Walker on an RBI groundout to second base to move the Eagle Indians in front by an 11-10 margin.
Connor Mathisen now had Wilson at third base and Kiser at second with one out and a chance to break the game open.
The senior left-hander took a 1-2 pitch the other way with a liner that went under the glove of a charging Pendleton center fielder.
The ball trickled close to the wall, but by the time it made it back to the infield, Wilson and Kiser had coasted home safely and Mathisen slide safely to third for a two-run triple.
Staked to a three-run lead in the top of the seventh inning, Walker retired Quentin Queampts on a grounder to third base, as TDW's Nolan McCall scooped the ball with his glove and fired the ball to first base to drop Queampts by a step.
Tan Rivera then reached safely on an infield single, and then Grant Klopmeyer hit a low line drive to center field for what looked like a base hit.
Instead, Mathisen hustled to shallow center field and made a diving catch for the second out.
Walker then induced a game-ending force out at second base on a grounder hit by Pendleton's Brian Branstetter.
"We take a lot of pride in coming back to win games," said TDW pitcher Hunter Malcolm. "I really like the way we stuck together. It meant a lot to come out and win this game because I do not think we have ever won three games against Pendleton that I remember."
Walker tossed an inning and a third of one-hit, scoreless ball with a walk to earn his fourth win.
Malcolm got the start and lasted three innings, but got the no-decision.
The right-hander allowed two runs on one hit with five walks and a hit batter.
The Tribe pitching staff allowed eight hits, walked 11 and hit a batter, but managed to get the outs needed to keep Pendleton within reach.
"That is six runs right there, without them having to do anything," said Runyon of the wild pitching. "That is something we obviously have to clean up. But, we did a nice job in responding, even with that adversity we put ourselves in."
In their six league contests, TDW has scored 67 runs with a team average of .436.
As a group, seven different Tribe players had hits, eight scored runs and five received free passes.
With Tuesday's 14-hit barrage, the team batting average swelled to .349.
"We pulled out a lot of clutch hits in the end," said TDW's Zach Cantrell, who scored a run. "We started out slow, but then we started getting some hits going and gained momentum as the game went on. We all hit it really well.
I think we are successful because we are just staying aggressive at the plate. We all want to get a hit, not a walk. We want to swing the bat and get some runs in."
Offensively, Bartells (.379) spearheaded the charge with a 4 for 4 effort with three doubles and three runs scored.
With those runs scored, Bartells extended his team-lead in runs scored to 25.
Wilson (.364) had two hits, scored three times and drove in five runs.
McCall (.391) had two hits and three RBIs, Mathisen (.361) drove in two more runs and senior slugger Kevin Henderson (.410) went 2 for 2 with two walks and two runs scored.
Whitten chalked up this latest league setback to lack of execution.
"We just had a hard time getting them out," said the Buckaroo coach. "We are not good enough to make mistakes on the field. We did not execute on some bunt defenses and some first-and-third situations and made some crucial errors a couple of times. We have to play error-free baseball in order to win and we definitely did not do that today."
TDW (14-5 overall, 5-1 league) hosts Hood River Valley (10-9, 3-3) for a doubleheader at noon Saturday.