­The fact is that people are good. Give people affection and security, and they will give affection and be secure in their feelings and their behavior.
— Abraham Maslow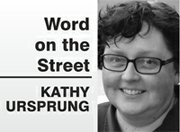 Maslow in action: If you've never heard of Maslow's Heirarchy of Needs, it's the idea that human motivation is prioritized starting with basic human needs like food, water, breathing, etc., moving on to safety. Only when those fundamental needs are fulfilled can human beings move on to higher motivations like love and belonging, self-esteem and self-actualization (morality, creativity, problem-solving, etc.).
It's a compelling philosophy about why we act the way we do and it has been a guiding principle of how United Way of the Columbia Gorge distributes money to the various local nonprofit organizations for some time. The contributions they accumulate from local donors, are applied to address basic needs of local residents for things like food, shelter and safety.
Wells Fargo was recently identified as having United Way Worldwide's largest employee giving campaign for the fourth year in a row. United Way of the Columbia Gorge also relies on employee giving programs around the region to raise money for these charitable causes responding to basic human needs.
"We've increased our assistance to local human service groups over the past year, but there has been a corresponding increase in the need for assistance," said Jeff Heater, president of the local organization. "We're always looking for people with an interest in United Way. We invite you to attend one of our chapter meetings and learn more about how you can help."
The next chapter meeting is Wednesday, May 15, at 5:30 p.m. at Clock Tower Ales.
You can also find information online at www.unitedwaycolumbiagorge.org.
Economic driver and a big party: Cherries are a big economic driver in the Columbia Gorge. When local cherry orchardists have a good year, so do the rest of us as they shop and spend in the local community.
We celebrate the Northwest cherry industry this week with the Northwest Cherry Festival. Activities start tonight with an Oyster Feed at the Windseeker Restaurant. Tomorrow the Cherry Festival Lip Sync will entertain us with the creative talents of local people.
Special note: The Cherry Festival Parade starts an hour early this year, at 10 a.m., so don't miss Saturday's centerpiece event.
The Chronicle published a schedule of events in the Sunday, April 21, edition. We still have issues for sale at our 315 Federal office. Get a copy so you won't miss a single fun activity.
Farewell to Glenn: The North Central Public Health District is wishing a fond farewell to Glenn Pierce on Thursday, May 2, from 4:30 to 6 p.m. Pierce is retiring from his longtime role as supervising sanitarian at the Health Department.
Wish him well at the district offices at 419 E. Seventh St., The Dalles.
Open forum: Government Affairs, a committee of The Dalles Area Chamber of Commerce, is a place to discuss and debate issues affecting the local region. This week offers an open forum and their regular Thursday meeting, so it is a chance for all to listen and be heard. The group meets at The Barbecue Restaurant in The Dalles at 7 a.m.
Upcoming guests will be Bill Marick of Oregon Trail Youth Transitional Group, May 2; and Bob Bailey talking on cherry industry issues, May 16.