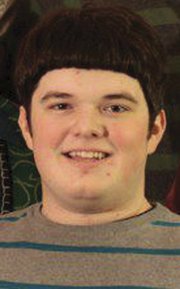 The news that the Boston Marathon bombing suspects were no longer on the loose was a "huge breath of fresh air" to Sam Vawter, but he says reminders of the tragedy are still very present around Boston.
Dzhokhar Tsarnaev's arrest ended an emotionally exhausting week for Vawter, a native of The Dalles who is attending Emerson College four blocks away from the site of the bombings.
When the bombs went off, Vawter was safely inside the school's theater at a technical rehearsal for a play opening later in the week. The cast and crew heard the sirens and someone told them there had been an explosion.
"At first we didn't know how bad it was. We thought it was just fireworks or something," Vawter said. "Two hours later the rehearsal came to a halt. People wanted to make phone calls because everyone knew someone running in the race or watching it."
Two of Vawter's friends who were watching the race ended up in the hospital. One quickly posted on Facebook that her x-rays looked good and the other later sent word that she would be gone from school for a few days but was going to be OK. He said he and his friends didn't want to pry for details because they knew everyone who had been at the scene of the explosion was being hounded by acquaintances and the media for information.
Classes at Emerson were cancelled the next day, and Vawter said students tried to keep from obsessively following the news coverage — something that can be hard to do in the age of smart phones and Twitter.
"[Faculty members] told us the best thing we can do in this type of situation is to go to our room, turn off the news and pull out a book we don't have to read," he said.
Friday morning he woke up to a deluge of email alerts that class had been cancelled once again as the city went on lockdown while authorities hunted for the younger Tsarnaev brother. This time the bulk of the activity was in Cambridge, and Vawter said students felt safe enough to walk down the street in a group to get food, but the day was still a nerve-wracking one.
"The amount of military support concentrated in the area was just very unsettling," he said.
When word came that night that the final suspect was in custody, Vawter said he phoned his parents with the good news and then crawled into bed, exhausted after a long week. He said he dealt with the stress by throwing himself into his schoolwork and the play, which opened Thursday night. He said everyone was grateful that the suspects were identified and taken care of so quickly so everyone could breathe easier again.
"The initial shock wore off, but then you start to think that this guy's still out there and he could do it again, so is it safe to go outside?" Vawter said.
He said he has stayed away from the site of the blasts, but there are still reminders everywhere, from "Boston Strong" signs to the inspirational messages scrolling across the lighted signs on buses that usually display route information. He said the actions people took following the tragedy — even small things like posting on Craigslist that stranded travelers could stay with them for free — "restored my faith in humanity."
"Bostonians are very strong and resilient people. That's just a very truthful statement," he said. "They don't live in fear and it's very comforting."
Vawter said he was also heartened by the outpouring of phone calls and Facebook messages he got from people in The Dalles even after they knew he was physically safe.
"I felt a lot of love and support from people at home and at school who were aware I might not be doing well," he said.
That included his parents and his brother, who he said worried about him all week. The family spent a lot of time checking in with each other on the phone.
"We needed that," he said.
Vawter said he is looking forward to coming home next week when the semester ends.