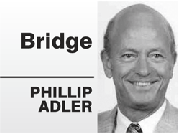 Jascha Heifetz, a great violinist who was born in Russia but moved to the United States at 16, said, "If I don't practice one day, I know it; two days, the critics know it; three days, the public knows it."
Bridge players do not need to practice that often — but it would be beneficial if they did.
Look at the North hand. He deals and opens one diamond, and South responds one spade. What should North rebid?
North has three possible choices, but all have drawbacks: one no-trump (with a singleton), two clubs (aims at minors) and two spades (only three trumps). Best is two spades, which limits the hand and looks for a major-suit fit. We love majors and dislike minors. (I will say more on this tomorrow.)
South should then jump to three no-trump. If North has four spades, he will correct to four spades. Here, though, he passes.
After West leads the heart six, South sees a disappointing four top tricks: one spade, two hearts and one club. Four more are available in diamonds, and another winner can come from clubs. However, declarer must be careful to take the club finesse at trick two. Although the finesse loses, West cannot safely lead another heart, and the contract comes home.
Note that if a diamond is led at trick two, the contract dies. East wins with his ace and leads a heart through the ace-jack. When West gets in with his club king (or East with his spade king), the defenders cash enough hearts to defeat the contract.
Yes, playing ace and another club works here, but not if East has the king.