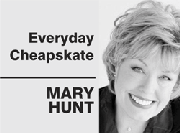 Dear Mary: I am 24 and will be a senior in college next year. I plan to apply for my first credit card to start building credit. I am also planning on traveling, so I would like a card that can be used abroad. However, looking into credit cards has been difficult. I am limited in what I can apply for because I don't have a credit history or a steady income stream. I work during the school year only. Do you have any recommendations on where to research the best credit card for my situation? — Mariah, email
Dear Mariah: Banks are averse to risk, and the credit industry has tightened. That has caused banks to pull back from offering credit to students with the kind of ease they once did.
As of this writing, Capital One is one of the few cards I know of that does not charge conversion fees on purchases made in foreign countries. Credit card features are changing rapidly, however. Look at what Capital One will offer you. Then, go to IndexCreditCards.com for a current list of credit card offers for students. Be sure to read all the fine print and know fully what you're getting into before you submit an application.
If you plan to use a credit card abroad, I hope you are not planning to travel on credit — and come home with a load of debt. Make a personal commitment never to allow a balance to roll over from one month to the next. You cannot afford to do that.
Dear Mary: I recently moved into a new apartment. The refrigerator has an icemaker, but the ice from it tastes musty. I let the ice container fill up, then I emptied it, cleaned it, and let the maker start over. It still smells. We don't use ice every day, so sometimes it sits for several days. It is not practical to turn the icemaker off because it takes too long to make ice when we do need it. How can I rid the ice of its musty taste? — Julie, Ohio
Dear Julie, I have a feeling that you need to replace the filter that sits between the water source and the icemaker itself. That filter needs to be changed routinely, in the same way you change the filter on your furnace and air conditioner.
Look in the refrigerator's owner's manual for specific instructions on how to do this. You should be able to pull the appliance out from the wall, follow that water line back to where it's hooked up (probably under the sink) and find the filter in the process.
If I were you, I'd go straight to RepairClinic.com to look up the instructions for your particular make and model, and find the exact replacement filter. Repair Clinic stocks millions of parts for nearly every appliance out there, no matter the age or scarcity, along with instructions for how you can make most repairs yourself.
Do you have a question for Mary? Email her at mary@everydaycheapskate.com, or write to Everyday Cheapskate, P.O. Box 2099, Cypress, CA 90630.
Mary Hunt is the founder of www.DebtProof
Living.com, a personal finance member website and the author of "7 Money Rules for Life," released in 2012.
'To find out more about Mary and read her past columns, please visit the Creators Syndicate Web page at www.creators.com.