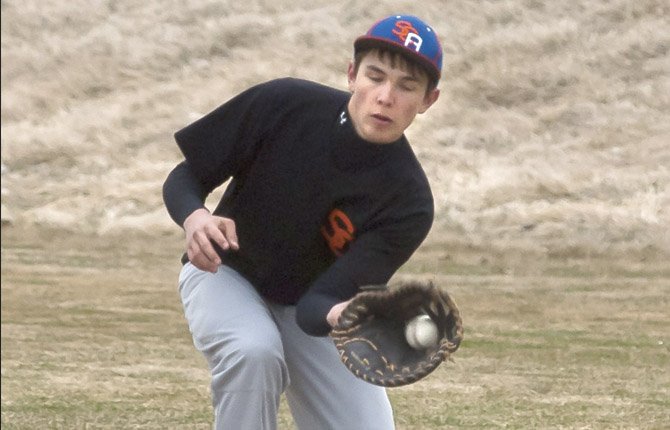 When he is not running, jumping or hurdling, Sherman junior Nick Coleman is one of the top baseball players in the Blue Mountain Conference.
Tuesday, he proved it.
Coleman tossed four innings of four-hit ball and added three hits and an RBI to lead the Sherman Huskies to a 6-4 victory over Heppner.
"Nick is very big threat. He is my leadoff hitter and he seems to get us going all the time to start the games off," said Sherman head coach Joe Justesen. "It is nice to have him on this team. He just goes out and competes every time he steps on the field."
In this matchup, Sherman used two big innings and held on late, as Heppner had two big opportunities in the fifth and sixth innings against Husky reliever Austin Kaseberg.
Up 6-3 in the bottom of the fifth frame, Coleman ran into trouble by giving up a single and two walks to load the bases.
That is when Justesen made the call to Kaseberg to help get his teammate out of the soup with the top of the order upcoming.
Kaseberg struck out the first batter he faced.
The next hitter flew out to Nick von Borstel in center field and he threw the ball to shortstop and cutoff man Riley Brown.
The senior fired the ball to Coleman at third base to gun down the runner for the final out.
On the play, the Mustangs happened to notch a run to make it 6-4 and inch a little closer.
Kaseberg walked the high wire again in the sixth inning, as Heppner loaded the bases with a walk, a single and an error.
Kaseberg fanned the next batter for the first out, and the next batter hit a ground ball to Brown at shortstop.
Brown threw the ball home to Wyatt Stutzman at home for the force out. The freshman made a snap throw to Coleman at third base to get the runner out at third base to end the threat.
After the Huskies went scoreless in the top of the seventh, Kaseberg came out and retired Heppner in order on a two groundouts and a fly out.
Coleman recorded the final out on a grounder hit in his direction.
Coleman allowed five hits and four runs. He struck out three wand walked two.
Kaseberg tossed 2 2/3 innings of scoreless, one-hit ball with a strikeout and a walk for the save.
The Huskies jumped out to a 2-0 lead in the top half of the first inning, but the Mustangs answered with a three-run home run to grab a 3-2 lead after one frame.
Sherman had the difference-making scoring splurge in the top of the second with four runs on two hits and a walk.
Kaiden Paulette started the rally with a single and he advanced to second base on a passed ball.
On the play, the Heppner fielder inadvertently stepped on Paulette's hand, so he had to exit in place of pinch runner Alex Fields.
Jarred Davis walked to put runners on first and second base for Coleman, the No. 2 hitter.
Coleman rifled an RBI double to left center field to chase home Fields to tie the score at 3-apiece.
Davis advanced to third base on the play and he scored after a ground ball hit by von Borstel was booted by the Mustang second baseman.
The Sherman senior swiped second base to get runners on second and third base with one out for Brown.
Coleman scored on a sacrifice fly to center by Brown to scoot the Huskies ahead, 5-3.
Von Borstel scampered to third on a passed ball and rumbled home on a two-out, RBI single to center by Eddy Lopez to cap the frame and move Sherman up by a 6-3 margin.
Coleman went 3 for 4 with two runs and an RBI to lead Sherman's seven-hit attack.
Brown had a hit, a run and two RBIs, Lopez tallied two hits and drove in a run and Paulette went 1 for 1 in his brief stint.
The Huskies have six league games left against Stanfield, last-place Horizon Christian and Pilot Rock, so there is still a realistic possibility they can make headway down the stretch.
Even after two tough losses against Weston-McEwen last weekend by tallies of 3-2 and 8-1, Justesen appeared happy with the direction his squad is headed.
"We have done a good job lately," the coach said. "We have been putting the bat on the ball. We jumped on them early today and capitalized when we had runners in scoring position. We played solid defense today and our pitchers gave us a chance to win. We need to give it our best for seven innings. Those are the things we have to do if we are going to make a run at this."
With the win, the Huskies moved their record to 4-9 and 3-5 in league play, just one game behind Pilot Rock (6-10, 3-4) for the fifth and final district slot.
Sherman next hosts Stanfield (10-5, 6-1) for a doubleheader starting at 1 p.m. Friday in Arlington.
In other BMC baseball play, the Dufur Rangers (10-7, 6-2) vaulted into third place with a 12-11 win over last-place Horizon Christian (4-11, 0-8).
Dufur travels to Heppner (2-11, 2-6 league) for a critical doubleheader Saturday starting at 11 a.m.