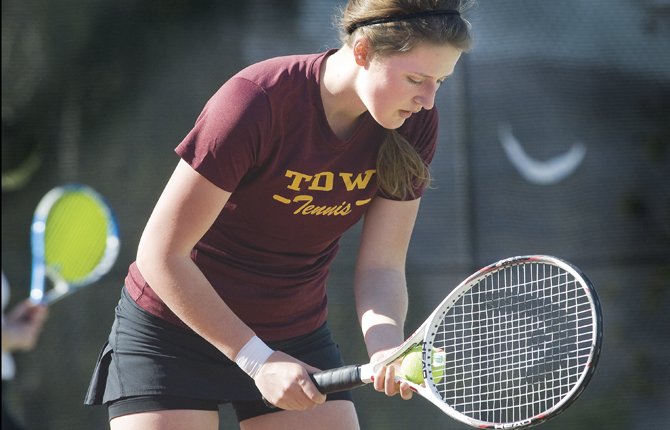 Although the final tally of a 7-1 loss was a carbon copy of the last time The Dalles Wahtonka played against Hood River Valley, girl's tennis coach Debby Jones noticed better play from her determined squad.
Anna Miller won her No. 1 singles match and the Eagle Indians came close in a few others in a 7-1 league loss on senior night Wednesday in The Dalles.
"The biggest highlight of the match was that overall, the team improved in the total number of games that it won," Jones stated.
"With our inexperience, picking up individual match wins is important, but seeing the overall improvement really gets me smiling."
Miller had lost a previous match to Hood River's Emilee Ziegner, but did not get an opportunity to turn the tables, as she was penciled to face Claire Rawsen.
So, she took out her frustrations on her HRV foe by flipping the switch with furious rallies, volleys and tough serving for winning scores of 6-2 and 6-0.
"Anna had a dominating win," Jones said. "Anna was efficient and took advantage with short balls and is beginning to have a more all-around game."
At No. 2 singles, Shania Lewis faced a tough test against Miranda Starr and did not get the momentum going to pull out a win.
Starr won her match 6-4 and 6-3 and her HRV teammate, Maddy Chambers, worked a 6-0, 6-1 winner over Brittany Watkins.
In the final singles tussle, TDW's Leslie Luna-Lopez put out a good fight in her match versus Sienna Harlin and just was nipped by a 6-4, 6-4 score.
"Shania Lewis played her very best match of the season," Jones said of her senior. "I think Shania probably hit more balls in this match than four matches combined. I was very pleased with her patience."
On the doubles circuit, Ziegner and Sophie Oswald defeated Katie Mazeski and Johanna Wilson by marks of 6-2 and 6-4 for the sweep and at No. 2, the Eagle Indian duo of Itzuri Hernandez and Alma Lopez lost 6-4, 6-2 to Petra Knapp and Anna Guemperlein.
Given the recent stretch by Mazeski and Wilson, Coach Jones said it was a disappointing loss by her top tandem, but this match is not indicative of the upward trend they are headed as the districts approach.
"I think the tough match will prove helpful in the long run for Mazeski and Wilson," the coach said. "They need to be challenged so they can take their own games to the next level and facing solid competition will help them do that." Abi Herriges and Cinthia Vazquez could not move ahead in their match for the Tribe, as they lost 6-4, 6-1 to Hood River's No. 3 team of Emma Cameron and Naomi Greenwald.
Elle Webb and Vanessa Sandoval kept the HRV run going in their No. 4 doubles match in a 6-4 and 6-2 decision over Emma Ell-Smith and Rebecca Kohltfarber.
TDW plays in Pendleton at 4 p.m. Wednesday.