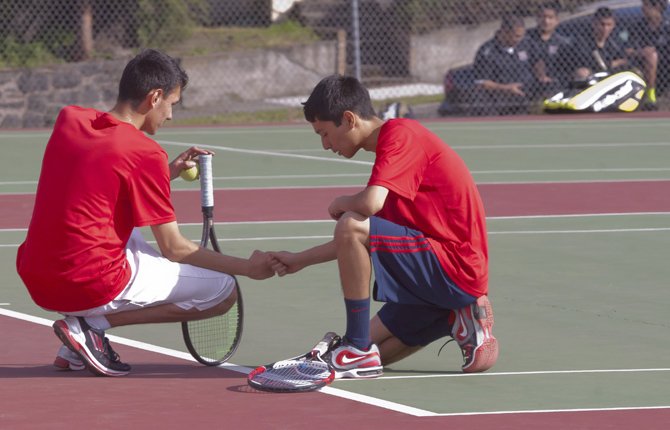 There were only two blemishes on the slate Wednesday for The Dalles Wahtonka boy's tennis team, those six other matches were lopsided blowouts.
TDW's singles and doubles scratched across three wins apiece, and the senior No. 1 doubles duo of Jose Santillan and Chava Vasquez dropped a dominant win to lead the Eagle Indians to a 6-2 road tennis win Wednesday night over Hood River.
"I thought that everyone else played pretty consistently," said TDW head coach Andrew Hughes. "We had a couple of different pairings in doubles, except for No. 2. We served well, we came to the net, and we put away volleys and showed some improvement there. Our three singles guys have been performing pretty a strongly of late and it is nice to see them do that."
Santillan and Vasquez, the Tribe's team captains, got the jump on Hood River's Marty Sova and Pat Humann to get the good ball rolling.
They worked their magic by forging scores of 6-1 and 6-2 to grab the sweep.
"They lead with the right attitude, and they go out and play some solid tennis," Hughes added.
Daniel Spurr and Milo Romney added a win at No. 3 doubles with splits of 6-4 and 6-3 over Mike De La Rosa and Jorge Calderon.
Fernando Lopez and Carolos Valenzuela did not rest with the winning feeling going, as they eased past Cole Sheppard and Johnny Hale by a score of 6-2 and 6-4.
The lone doubles loss came at the hands of Antonio Argueta and William Coy at 6-2, 6-4 against Billy Edwards and Will Ferrick.
Cole McDowell had another huge win at No. 2 singles where he could not be contained in his lopsided 6-2, 6-3 affair.
Christian Munoz kept his winning streak going in a little bit of a closer contest, but pulled away late with a 6-4, 6-3 winner over Cooper Holzman.
Foreign exchange student Ben Dlala mopped up the floor with his opponent Jorge Ortega, serving and dropping shots at a prolific rate for a 6-0, 6-0 shutout winner.
Scottie Ziegner posted HRV's only singles win at 6-0, 6-0 on top of Carlos Barajas at No. 1.
TDW is in Redmond this weekend for a two-day tournament starting at 9 a.m. Friday.