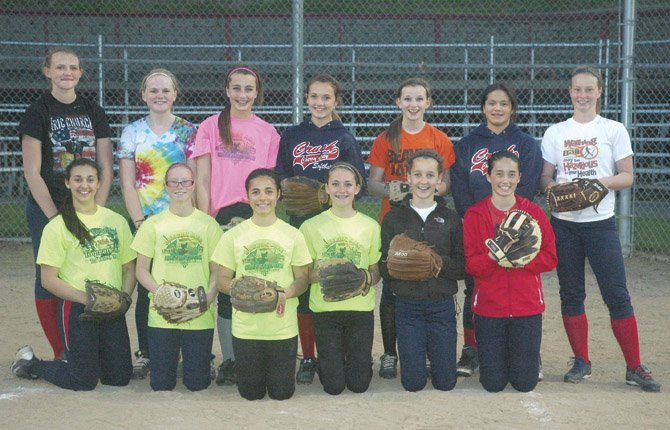 14U Cherry Crush
2013 Spring Season
Bob Delaney...Coach
Patti Delaney...Assistant Coach
Andy Clark...Assistant Coach
Casey McCleary...Assistant Coach
---
Abby Walker, Abby Robertson, Jodi Thomasian, Laney Schanno, Sarah Helyer, Jez Ferrell, Sierra Watson, Haley Bechnel, Shaynie Watson, Jessika Nanez, Emma Weir, Kathryn Bradford and Kailin Hoylman.
Schedule
April 26....at 16th St. Ballpark, 7:30 p.m.
May 11-12...in Clackamas
June 1-2...in Hillsboro
June 15-16...in West Linn
June 29-30...in North Marion
July 5-7...at ASA Oregon State Championship in Hillsboro
The Dalles — All 13 players on this 14U Cherry Crush softball team have experienced the exhilaration of winning a state championship.
It was a magical moment and a breakthrough for The Dalles' premier traveling softball program.
They are poised to do it all over again in 2013.
Coach Bob Delaney has assembled a high-flying group that has speed, solid defense, top pitching and vocal leadership with key returners Abby Robertson, Shaynie Watson, Kailin Hoylman, Sierra Watson and Abby Walker as the main cogs on this all-star team.
In looking at the roster, Haley Bechnel – one of eight 12U champions taking a step up to the 14U ranks – is excited at the prospects.
"I think we have a really good team," said the second baseman. "Our offense, our defense, our pitching, our catching, everything has been perfect. I think we will get better as the season goes on. We have the potential to go really far."
As part of tempering her expectations, Bechnel warned that 2012 is a distant memory – this group now has to refocus on the task at hand, mesh together and re-establish a level of continuity and trust to maintain momentum.
It is still a matter of managing 13 different personalities on a team to get on the same page.
"We have to leave last year to last year and worry about this year," Bechnel added. "We don't even worry about that. This is a whole new season, a whole new year. We have to start over and build up again. I think that we have all had that experience and if it happens again, then that is great, but we just have to build up and get back to where we were."
So far, the outcomes have been promising after a good performance at last weekend's Icebreaker Tournament in Tri-Cities, Wash.
The Crush has shown an ability to score runs and Sierra Watson even rifled a long home run.
Sierra Watson welcomes in a new catcher in Jez Ferrell, while Jodi Thomasian, Sarah Helyer get some solid frames from the circle with their reliable backstop.
"Jez is really good catcher," Sierra Watson said. "I am comfortable throwing anything to her. She can stop the low pitches and she has a good arm and is accurate."
There are several other critical parts sprinkled across the lineup.
Thomasian, Laney Schanno and Helyer infuse a versatile dynamic and other former 12U champions Bechnel, Jessika Nanez, Emma Weir, and Kathryn Bradford bring skills to the table.
The beneficiaries of such stout threats are Farrell, Shaynie Watson, Thomasian, Schanno, Robertson, Sierra Watson and Abby Walker who represent the big boppers in the lineup.
"We have a lot of weapons on this team that can make us dangerous," Sierra Watson said. "Not just one person is the best player on the team. Every player has the same qualities. It is still early in the season and we have done pretty good. We just have to come together as a team."
The long-term aim of the coaching staff of Bob Delaney, Casey McCleary, Andy Clark and Patti Delaney is to have fun, work together and bring a positive attitude to the field every day.
"This team has a tremendous amount of experience and desire to repeat as state champions," Bob Delaney said. "We all are looking forward to a great season."
All through the 2012 season, Coach Delaney suited up his squad versus some tough opponents and the 14U Crush finished with an overall record of 25-13-1.
Through a grueling three-day stretch under hot July sun in Hillsboro, the Crush reeled off six consecutive state victories.
In this tournament, the Crush displayed their hitting abilities by outscoring opponents by a 48-22 margin in the six contests.
Hoylman is anticipating a similar trend unfolding as the days roll by.
"There is so much potential. It helps a lot that we have so much confidence in each other," she said. "We have some girls who are power hitters, we have a lot of speed, we have lots of people who can hit it in the gaps. We are a well-rounded team."
One mantra shared by the trio of Hoylman, Bechnel and Sierra Watson – It matters what you do next, not what just happened.
There are going to be ups and downs to every season.
As a wily veteran, Hoylman addressed how this group intends on handling this roller coaster.
"The sign of a good team is how they react when something bad happens," she said. "We just have to make sure that we keep our heads up and not get down on ourselves."
Bechnel agreed wholeheartedly with that sentiment.
"If something bad happens, we try to shake it off and try to keep going as a good team and try to stay strong," she said. "The stronger we stay, the better we are and then the more wins we can have."
After tonight's 7:30 p.m. game against Hood River at 16th Street Ballpark, the Crush continues their home tournament with a slate of softball games starting at 9 a.m. Saturday at Sorosis Park.