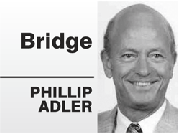 Robert Benchley, a humorist who died in 1945, said, "If you think that you have caught a cold, call in a good doctor. Call in three good doctors and play bridge."
Or if your pet is ill, call in three vets who are good bridge players.
Have a look at the North hand in today's diagram. It has the same distribution as yesterday's, 3-1-5-4, and the uncontested auction starts the same way: one diamond — one spade.
Yesterday, North rebid two spades.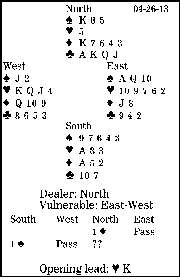 But today's hand has more points, 16 instead of 13; what difference does that make?
With the extra high-card points, North needs to bid more strongly, but he lacks the fourth trump for a jump to three spades.
Instead, he hopes to bid three times by rebidding two clubs.
Here, South will rebid two diamonds, showing only 6-9 points, fewer than six spades, and a preference for diamonds over clubs.
Now North continues with two spades.
First, this says that despite South's hand being so weak, game is still possible. (If it were not, North would have to pass out two diamonds.)
So, North is showing some 16 or 17 high-card points and probably this hand distribution.
Then South has enough to jump to four spades.
If West were clever, he would lead the spade jack.
But let's assume he chooses the heart king.
Declarer wins with his ace, ruffs a heart, plays a diamond to his ace, trumps his last heart, and continues with the spade king.
East wins and returns his second diamond, but South takes the trick with dummy's king, discards his last diamond on the third club, and loses only two more spade tricks.