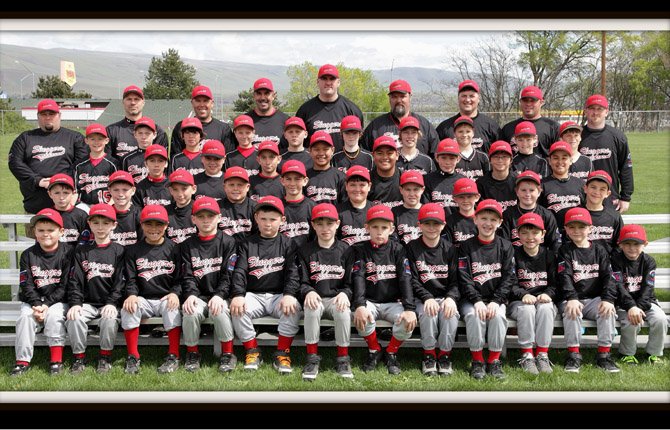 Tourny Schedule
SLUGGER BASEBALL
Saturday pool play schedule
Game 1: 8 a.m. on Field 1 Vancouver vs. McMinnville
Game 2: 8 a.m. on Field 2 Sherwood vs. Sluggers--Mathisen
Game 3: 8 a.m. on Field 3 Crook County vs. Sluggers-Abbas
Game 4: 10:15 a.m. on Field 1 Crook County vs. Gresham
Game 5: 10:15 a.m. on Field 2 Bend vs. Sluggers--Mathisen
Game 6: 10:15 a.m. on Field 3 Vancouver vs. Sluggers--Abbas
Game 7: 12:30 p.m. on Field 1 Crook Co. vs. Sluggers--Mathisen
Game 8: 12:30 p.m. on Field 2 Bend Titans vs Academy Devils
Game 9: 12:30 p.m. on Field 3 McMinnville vs. Sherwood
Game 10: 2:45 p.m. on Field 1
Gresham vs. Bend Lava Bears
Game 11: 2:45 p.m. on Field 2 Academy vs. Sluggers-Abbas
Game 12: 2:45 p.m. on Field 3 Vancouver Swarm vs Bend Titans
Game 13: 5 p.m. on Field 1 Bend vs. Academy Devils
Game 14: 5 p.m. on Field 2 McMinnville Grizzlies vs. Gresham
Game 15: 5 p.m. on Field 3 Bend Titans vs. Sherwood
---
Sunday bracket play
Game 1: 9 a.m. on Field 1
Seed 5 vs. Seed 8
Game 2: 9 a.m. on Field 2
Seed 6 vs. 7
Game 3: 9 a.m. on Field 3
Seed 9 vs. 10
Game 4: 11:30 a.m. on Field 1
Seed 1 vs. Seed 4
Game 5: 11:30 a.m. on Field 2
Seed 2 vs Seed 3
Game 6: 11:30 a.m. on Field 3
Winner Gm. 1 vs. Winner Game 2
Game 7: 2 p.m. on Field 1
Winner Gm. 4 vs. Winner Game 5
The Dalles Sluggers are back in action this spring for an exciting brand of competitive Junior Baseball Organization play that is bringing the baseball community to a fever pitch.
Starting at 8 a.m. Saturday and ending with the championship game at 2 p.m. on Sunday, the Sluggers are hosting eight teams in their annual 10-team, two-day Cherry Festival baseball tournament at Kramer Field in The Dalles.
While this is an early-season open tournament for any level of team, one of the coaches of a 12U group, Joe Abbas, said having a wide variety of teams coming to town, gives everyone involved an opportunity to work out the kinks before many of them kick off league play in May.
Some of the squads include the Academy Devils, Vancouver, Wash. Swarm, Sherwood Baseball, Crook County Baseball, the Bend Junior Lava Bears, Bend Titans, McMinnville Grizzlies and the Gresham Elite.
Abbas said this lineup is the perfect warm-up.
"This might be the best overall group of teams ever to come to The Dalles and play at this level," Abbas said. "Could be some good baseball being played."
With The Dalles Wahtonka High School baseball program boasting the 5A classification's highest scoring offense to go with a top-4 ranking this year, much of the hard work done by those standouts occurred in the early stages in little league and the JBO.
This year, the Sluggers program has five teams playing, almost 60 kids – a number Abbas said is the largest in the program's history.
Abbas coaches one of the groups and Jeff Mathisen is coaching another 12U squad, which is comprised of athletes between the ages of 11-and-12-year olds.
Since these teams are a mix of ages, due to a smaller amount of players in a specific age bracket, the baseball players are combined onto teams, so Abbas said it is harder for the program as they are typically younger than any other team, no matter the age group.
The goal for some might be to win this weekend, but Abbas said that for others, it would be an opportunity to compete with a team that is better – doing this makes players better and the wins will come down the road after the hard work and knowledge have become a part of each player and team.
Regardless of any competitive balances, the Sluggers program preaches the fundamentals of the game.
"You have to play up to the oldest kid on your team," Abbas said. "On any day, any number of the kids can step up and do great things. We have kids new to this brand of baseball and some who have been playing a while. Each team is trying to improve each game, each inning."
The Slugger program is a travel option available, much like high school, just at an earlier age to try an educate the kids on the game sooner.
"This way when they are in high school, the first Sluggers kids are now seniors for T-Dub," Abbas said. "They can do less basic teaching on how to play and play a better – a more intelligent brand of baseball." Abbas sees growth in the youth players each week they play, which bodes well for the future in kind of a domino effect ranging from athletics, academics and community pride.
"When a kid is successful on the field, it may trigger other good things in their life and that makes our community a lot stronger," Abbas said. "When a kid succeeds or works through a challenge their future becomes a bit brighter – it doesn't matter if it is on the field or classroom. We all win."
After this tournament, the 10U Sluggers are welcoming in seven out-of-town teams next weekend.
With recent little league and Babe Ruth regional tournaments, state tournaments, multi-team softball tournaments and other events on the docket, Abbas said it adds revenue and an element of tourism for visiting families alike.
There are typically 10-12 kids on each squad, who each bring one or two adults with them.
"So over the next two weekends, we will bring about 30 people per team to town, roughly 450 people staying, eating, buying fuel and other services," Abbas said. "That will have a positive impact on the community, all due to a great group of parents who have their kids playing travel baseball."
It has been a collaborative effort from everyone involved, whether it is through supportive families and friends along with generous businesses and dedicated coaches.
He extended an invitation to former players and their parents to assist in field, concession and officiating duties for the weekend.
Abbas said it would be a worthwhile stroll down memory lane.
"We have a great group of kids and parents at the three age groups this year," Abbas said. "We have already been successful this year before we ever took the field – our kids are having fun learning the game of baseball."