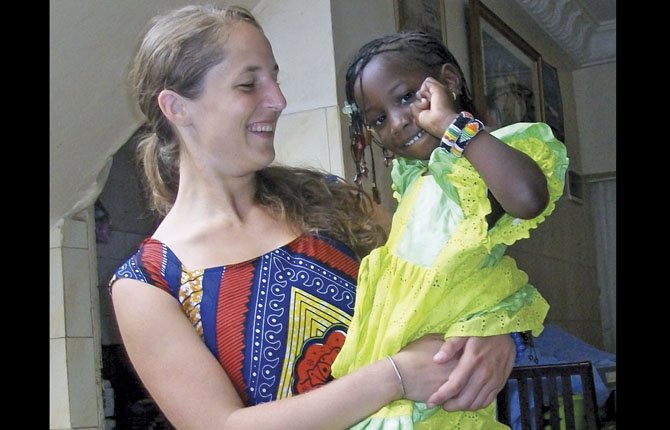 Education doesn't always come from a classroom and Amy Krol's studies took her to Senegal in 2012, where she learned that something as simple as a soda bottle can be seen as a small household miracle by people who need it.
Krol is an international studies major also studying romance languages at the University of Oregon. Last year she won an IE3 internship to work with the Group for Education and Population Studies (GEEP), an African non-governmental organization based in Senegal that works on education related to health and reproductive issues. The organization is bankrolled by the United Nations Population Fund.
About the soda bottle: It wasn't actually her main focus, but Krol needed to make a public presentation that would allow her to communicate with less than ideal skills in the native languages. She found a simple project online called a "Bottle of Light." It uses a liter bottle, water, bleach and a galvanized iron square, which are assembled and mounted so they stick through a roof.
"During the day it works as a 60-watt light bulb," Krol explained. "Several would be useful to a family in a village. Students can study during the day. Women can use the kitchen during the day."
Audience members were impressed by the low-tech solution.
Most of Krol's internship focused on health education through high school clubs that originally were launched to help stem the tide of HIV and AIDS.
"Senegal has a good success rate [in AIDs prevention]," Krol noted. "It's about the same as the US success rate over the past 30 years. But they don't have health education in the schools, so GEEP built high school clubs."
In each club, about 30 students are given training in leadership and health education.
"They train their peers through assemblies, musical recitals, plays and activities," Krol explained.
In a Muslim country where attitudes toward health education tend toward the conservative, the clubs have provided a valuable tool to spread preventive information.
Krol worked directly with students.
"It was really cool to see the students being leaders — high school students taking initiative to be a big part of their generation," she said.
She also worked in the GEEP office, learning about administration and grant-writing. The Bottle of Light project was intended as a small way to bring more economic resources to homes. The conference where she demonstrated the project, which included both boys and girls, yielded a bit of a revelation for Krol.
When she asked some girls to help with the demonstration, she learned that they had never experienced using a hammer.
"It was a problem I had never thought of: It was not seen as a girl's job to use tools," she said.
When she wasn't working, Krol soaked up the local atmosphere, visiting the beach, listening and dancing to local music, even attending a wedding with her home stay family. She also saw local sights, including Gorée Island, where the former House of Slaves is now a sobering tourist attraction.
"People were very friendly and very communicative and outgoing," she said. "They want to know about you and who you are."
Women were expected to wear long skirts that covered their knees, but displaying cleavage, or bra straps peeking through clothing, were not an issue.
"I talked to some guy friends and wondered about the low cleavage," Krol said.
She learned that while knees and above are seen as sexual parts of the body, breasts were seen as child-rearing parts of the body and breasts are frequently on display in public when infants are fed.
Despite the religious dominance of Islam in Senegal, Krol learned that the veil is more of a fashion trend, except in the most conservative households.
Krol also learned about Teranga, the Senegalese concept of hospitality that does not allow a guest to go unfed, no matter how poor the family. The word is from Wolof, the main language of Senegal. She also learned more French, and some Arabic and Italian.
"In Senegal I ran into people who spoke five or six different languages," she said.
Normally a picky eater, Krol dived into the local cuisine, eaten from a communal food plate.
"I never asked what was in the food," she said. "I knew it would be different."
Krol particularly enjoyed the greetings among people, known as salutations.
"They have a really long salutation," she said. "It's a way of acknowledging people."
It starts with the Arabic phrase for peace be with you, "As-salamu alaykum."
"They ask, "how are you?" several times. Are you with peace? How is your family? How is your mother or father? I liked it because it tied into the communal flow of how they are in Senegal. It's a big community feel. It's different there than here."
Krol's host mother was a widow who takes care of several nieces and nephews, running a household of 10 to 15 people at any given time.
"She was a businesswoman, always trying to find ways to make ends meet — definitely a tough lady," Krol said.
Krol has a couple more terms remaining at the University of Oregon. She hasn't worked out all the details of her career goals, but hopes to be involved as an advocate and liaison between differing groups in the future.