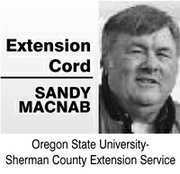 Yes, my wife and I (a.k.a. The Professor and Mary Anne) were honored to serve as grand marshals for the 2013 Cherry Festival Parade. And no, it was not a sign the apocalypse is upon us, that the Extension cereals agent was asked to lead that popular cherry-focused event.
Rather, it seems more like the old saying about "dancing with the one that brought you to the dance in the first place."
The annual Cherry Festival is sponsored by The Dalles Area Chamber of Commerce. The Chamber selected us as gentle reminder that they are turning increased focus back to their original roots, as noted in their founding proclamation from April 20, 1916.
The Chamber was "not conceived and perfected with the object of advancing the interests of The Dalles alone, but of the entire county of Wasco."
Former Chamber Director Pat McGaughey picked up on that and promoted the idea that the Chamber had been doing business for 10,000 years, a strong reminder of the influence of the Celilo traders that drew so many from so far away. Celilo was a place somehow designated as a demilitarized zone, where factions set aside their differences and traded for their needs. All were welcomed regardless of their color, race or religion. The Maryhill Museum of Art has a wonderful display showing items found in the local area, but that originated hundreds of miles away from us. Business is inherent in this region.
The release on the Chamber further notes that the aim of the new organization shall be "that of promoting the agricultural, commercial and industrial welfare" of the region.
The last figure I heard noted that while the population of The Dalles is only 14,400, it is the central shopping/business hub for about 80,000 people. And most of that is rural, ag producing ground: tree fruits, wheat, cattle, hay and timber highlighting the list of ag production.
So let's look at the value of that ag production. Wasco County is obviously led by sweet cherries that contribute about $55 million dollars, about 51 percent of its total 2012 ag sales. And that is not counting the impact of 3,000 to 5,000 pickers and families the area draws annually to pick the high-quality cherry that a machine cannot. Even with all the advances in technology, machines can't efficiently pick a cherry with the stem on.
Wheat represents another 23 percent of Wasco County's ag sales ($24 million), while other crop — livestock, hay and pears — round out the $107 million in ag values.
From one county, $107 million. If one estimates that each dollar circulates the local area six times before it moves on, that means Wasco County ag could be said to have a $642 million local impact.
But wait, there's more. Hood River's production generates another $112 million (85 percent of which is pears). Even if part of that is spent in The Dalles, it has huge impact on the area.
Then look to the east. Wheat! Lots of soft white wheat.
Sherman County, which is one of the smaller counties in Oregon by size, is always the third largest wheat producer. Last year, its 110,000 acres of harvested wheat generated an added $52 million. That's 80 percent of Sherman County's total ag value production. Gilliam County boasted an ag revenue of another $27 million.
And let's be honest; even though the Columbia River still divides Oregon from Washington, I have seen a vehicle or two with Washington plates shopping in The Dalles. Let's add another $95 million in their ag production.
So do a quick summary. Adding up all the ag production values in this Mid-Columbia region — $311 million on the Oregon side plus $95 million from Washington — and the total exceeds $406 million dollars. Again, factor each dollar as circulating six times through the economy and the potential is there for nearly $2.5 BILLION in our local economy.
Granted, not every dollar gets spent here, there will be some leakage. But the fact that the potential is there is what helps attract the businesses that do settle here. And ag production is here year after year.
So the question becomes how do we capture more of those local dollars and keep them in our region?
Why not form a group of interested thinkers, of active doers willing to celebrate the basis of our economy?
That is why we have the Chamber of Commerce. That is why they sponsor this annual event celebrating the production of our blessed area. Thank you, Chamber, and thank you, farmers, ranchers and orchardists.
After all, you not only gotta dance with one that brung ya, but good society says you also gotta take 'em home.