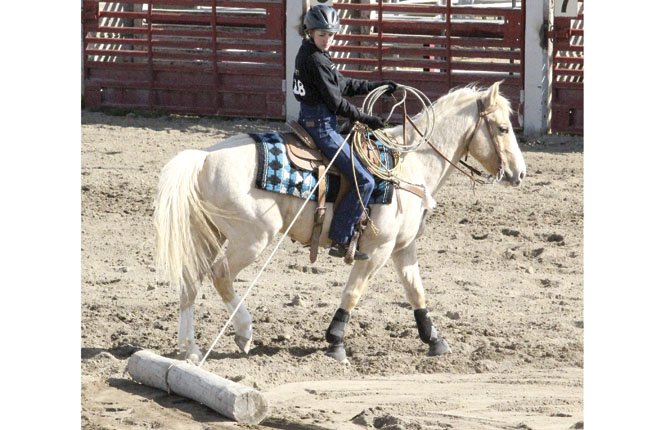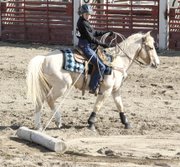 The Dalles — Equestrian teams from The Dalles Wahtonka, Dufur and Sherman had one last opportunity to compete against some top programs in the state with a focus on earning a state berth.
Although no locals punched state tickets, there were some good numbers put up at the Central District of Oregon High School Equestrian Teams event held from April 19-21 at the Deschutes County Fair and Expo Center in Redmond.

Redmond did not look back and rattled off 1,671 points to win the large team title, a mark that put them in front of Sisters (1,419) by 252 points.
Mountain View (1,360) and Bend (1,178) capped the Large Team field, which consists of 13 or more members.
Crook County edged out TDW for first place in the Medium Division circuit (8-12 teams) with a high of 796 points to the Eagle Indians' 161.
Summit ran circles around the five-team Small Division with 1,257 points, a long distance ahead of Trinity's 843.
Pendleton (596), Madras (595) and Ridgeview (465) capped the field.
La Pine claimed Mini Team gold, where a tally of 477 points was more than enough to defeat Dufur, who racked up a 262. Northlake hit a 198, Sherman racked up 49 for fourth place and Imbler made it to fifth where three points were put up.
On the individual slate, there were 16 top-20 outcomes spread out between the three teams, as Sherman's Shayne Holmes scored third in the Working Rancher and Dufur's Megan Elam doled out fifth in Steer Daubing for the best performances overall. Elam was not done with her standout performances, and she matched wits with Harley Burgener for second place in the Working Pairs landscape.
Elam tallied a pair of daubs and amassed a score of 5.81, and Burgener added two daubs herself with a 15.88 to her marker in the same Steer Daubing event.
Added to her third place rally in Working Rancher, Holmes placed sixth in reining.
In Hunt Seat Equitation, Elam added eighth place to her books, and Burgener was good enough for 21st in the same run.
There were six participants signed in for Western Horsemanship, with Elam kicking in the best marker of the group in 11th place.
Burgener reeled off 14th, and TDW's Jacob Richman had the best tally for the Tribe in 34th place in Horsemanship.
Shyanna Nails (35th), Thomas Richman (39th) and Jordan Fus (41st) rounded out the Western Horsemanship qualifiers.
Burgener continued her solid weekend in Redmond with 14th in Showmanship, and the Tribe duo of Nails (22nd) and Fus (30th) ended up in the top-30.
Carsen Cordell had a time of 16.98 seconds for her best rally in Barrel Racing, as she tallied 25th place.
Elam enjoyed a 17.85 for 32nd place, and TDW's Faith Hodges finished 37th with her reading set at 18.26.
Jacob Richman (20.5) got 52nd place, Cheyenne Renard garnered 54th and stopped the watch in 21.00, while Thomas Richman moved forward for 55th place where churned out a 21.02.
Nails, of TDW, pulled out a 26.18 for 66th place as the final Barrel Racing member.
Pole Bending proved to be a tough match for a local group of seven and Cordell had a 16th place output with a 26.67.
Hodges added a 27.96 for 24th, Renard squeezed out a 29.44 to grab 34th and Thomas Richman wound up in 39th place where his time read out to 30.62.
Jacob Richman was right behind in 31.78 for 43rd place, Holmes fired out to a 32.85 for 47th and Nails capped the field in 52nd place where she crossed the line in 38.03.
Nails and Fus earned their stripes in Dressage, with Nails reeling off 18th and Fus touched out in 21st.
Burgener hurried home at 19th place for a last attempt at In-Hand Trail and Fus ended up 20th for the Eagle Indians.
Fus had a try in the Trail Equitation and stood out for a 23rd place standing.
Jacob Richman did not blink an eye in Keyhole, but he did have a 9.95 to secure 18th place for the best finish of TDW.
Renard brought home 26th place with a reading set out at 11.86, Hodges freed up a 28th at 11.91 and Cordell inched ahead in 29th place where she punched home a 12.73.
Cordell was best amongst her TDW friends in the Figure 8, as she edged out a 12th place marker of 11.59.
Hodges had a 13.38 in Figure 8 for 33rd, Renard ended in 36th at 13.72 and Jacob Richman wheeled around for 37th with a 13.89.
Thomas Richman heeled out a 14.45 for the final time, which put him up to a 43rd place ending at Figure 8.
Three Tribe athletes entered into the Individual Flags realm and Thomas Richman could not be denied in his turn afoot with a 16.34 for 14th place.
Cordell motored home in 19.38 for 19th place and Hodges rounded out the local Individual Flag participants where her 24.28 powered her home to 25th place on the leaderboard.
These three squads went to work in team events as well at Bi-Rangle and both Burgener and Elam came together in seventh place with their 27.35.
From TDW, Thomas and Jacob Richman had a 34.97 for 30th place, Cordell, Renard lent a helping hand at 35.45 in 31st and the up-and-coming duo of Nails, and Hodges amassed a 66.27 for 41st place in the Bi-Rangle standings.
Thomas Richman, Hodges, Cordell and Renard had a group session for Canadian Flags and worked a 78.02 split for an impressive rally of 15th place.
Burgener and Elam were joined up in Team Penning and they combined for three pens with four cows in counting out a marker of 204.08.
Thomas and Jacob Richman hit the marks along with Hodges for one pen and one cow for tabulation of 80.22 and 23rd in the final order of finish.
The state meet for those who qualified starts at 9 a.m. from May 16-19 in Redmond.