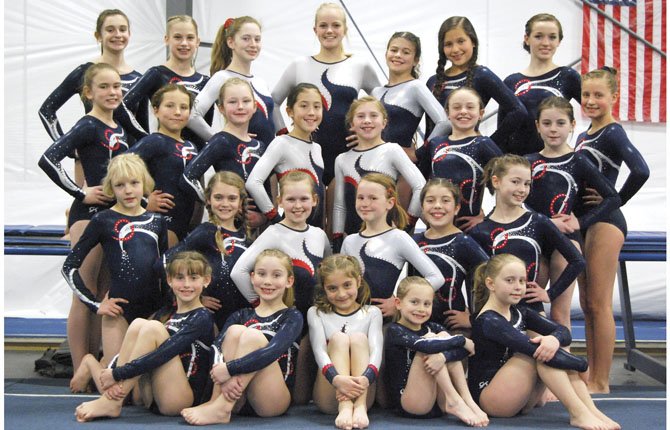 The Dalles — Coming off several well-balanced performances, local gymnasts are now eyeing the end game in Grants Pass as they go after state treasure.
Riverside Gymnastics Academy's levels 4, 5 and 6 will be up against the best in an all-out test of will as they rotate into Oregon's compulsory gymnastic championship the weekend of April 26-28.
Coaches Mike, Candy and Sara Smith are excited for their run along the Rogue River, as teams appear to be peaking like rapids at the right time.
The level 4 and 5 teams have both put up big team scores in their last meets, coming home with both first and second place trophies.
At level 5, Peyton Wojtecki, 14, has been on fire, turning her rotations into a seemingly endless series of podium-topping first places.
She has punished her competitors with nothing less than 37 plus all-around scores in all of her meets this season.
She has yet to fall under a third place finish in any event.
And even more stunning, she has run the tables twice in her last two meets, finishing first in every event.
She looks forward to state.
"My goal is to get a 38 all around. That has never been done at level 5 or 6 at our gym," she said. "I would have to average a 9.5 on everything. It's been a good season. Our whole team has worked really hard and we deserve to get first."
Wojtecki's dominance combined with a well balanced attack from the rest of her teammates has kept the level 5 team placing in the top three all season.
Teammates Alexa Baldy, Meara Crawford, Celia Peterson, Sophia Blair, Halle Haskins, Emily Adams and Sydney Rains have all contributed to team scores.
Highlights of the season thus far include Blair's 9.35 on beam in Hillsboro for first place.
Baldy went first all around with a sizzling 36.5 in Redmond, a score that she notched up to a 36.8 by the end of the season.
In addition, Rains went first on both beam and floor in Redmond, finishing with an all-around second place at 36.6.
"We want to get first place team all around at state because we have been working really hard, and we're a lot stronger than we were last season," said Celia Peterson.
At level 4, eight gymnasts have contributed to team scores thus far.
Aleksei Uhalde, Margo Mayo, Charlie May, Zoe Dunn, Ashley Quisenbury, Gabbe Haskins, Griffin Lavigne and Abby Beal have all put numbers on the board.
And all around scores have been huge.
On April 7 in Tigard, May knocked out a second-place 37.15 in and teammate LaVigne was right behind with a third-place 36.975. In Hillsboro on March 16, Dunn went first all around with a 36.925 and Quisenbury nailed down second with a 37.025.
At level 6, McKenna Bailey continues to improve, bumping her all-around score to a 35.075 in Tigard, which included second and third places on beam and bars, respectively.
Kendyl Kumm also continues to contribute despite a back injury.
Kumm landed a first place vault in Tigard, scoring a 9.4.
Riverside Gymnastics Academy is a nonprofit offering recreational and competitive programs for boys and girls.
The Academy is located at 2221 River Road in The Dalles.
For more information on the prorgram, call (541) 993-8625 or go to riverside-gym.org.