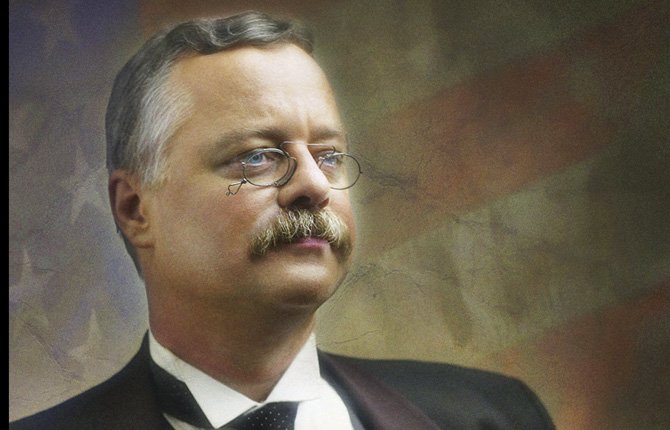 Teddy's coming!
Teddy Roosevelt's Oregon Roadshow, a live performance by historical impersonator Joe Wiegand, will visit The Dalles for a dinner presentation, May 14, 2013, as part of a six-day tour of schools, museums, and historical societies across Oregon.
The tour is organized by the Oregon Historical Society (OHS) and sponsored by Wells Fargo, and is a fund-raiser for the Discovery Center.
The dinner and presentation begins at 6 p.m. and will be held at the Columbia Gorge Discovery Center. Dinner features a choice of buffalo tenderloins or cornish game hen. Dinner reservations are due by May 8.
The tour will also include stops in Newport, Baker City, Philomath, Reedsport, Coos Bay, Pendleton, Astoria, and Portland, among other cities. "Teddy" will be accompanied by OHS Executive Director Kerry Tymchuk and Wells Fargo History Museum Manager Steven Greenwood.
In 2012, "Teddy" entertained and educated Oregonians of all ages in his premiere tour of the state. Wiegand traveled more than 1,000 miles last year and made presentations in 12 cities, from Portland to Prineville.

"OHS is thrilled to again partner with Wells Fargo to bring this educational experience to schools and historical organizations throughout the region," said OHS Executive Director Kerry Tymchuk.
Wiegand brings a depth of knowledge to the role.
"So many of T.R.'s contemporaries testify to the way he entertained audiences with inspirational and humorous stories from his youth, his ranching days, Cuba and the presidency," Wiegand said. "I really enjoy sharing T.R.'s funny stories of life in the White House with six kids and telling anecdotes from his many adventures, from bear hunts to the Panama Canal, from Africa to the Amazon."
Wells Fargo's history in Oregon dates back to 1852. "Wells Fargo is celebrating its 161st anniversary this year. We've never lost sight of our history and the role Wells Fargo played in our country's development of the West," said Greenwood. "We're grateful to the Oregon Historical Society for organizing this unique educational experience."
For ticket prices and reservations, call the Discovery Center, 541-296-8600 ext. 201.