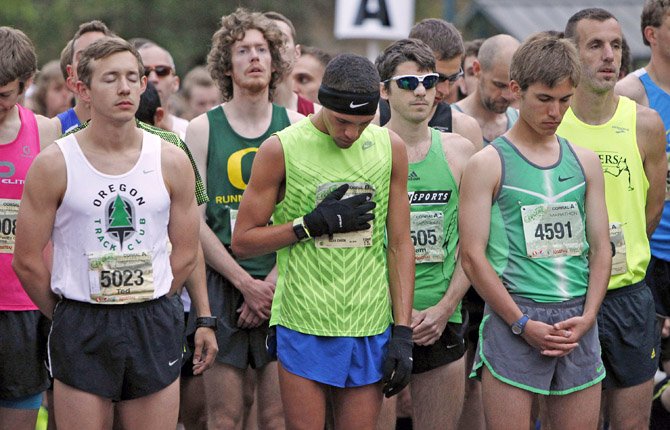 May Day brings worries
SEATTLE (AP) — A year after anarchists went on a rampage in downtown Seattle, organizers of Wednesdays' May Day march hope the focus turns back to reforming the nation's immigration laws.
"There's always a worry that some groups may want to take advantage," Maru Mora, one of the organizers, said of the possibility of more disruptive activity this year. "But no, it's more about ensuring that people pay attention to Congress."
For the past decade, immigrant rights advocates have used the march to push for reform, but the number of people marching has steadily declined since the mid-2000's when Congress last attempted to change immigration law.
Organizers hope for an uptick in participants this year because of the recently introduced bi-partisan Senate bill and President Barack Obama's push for reform.
"We've been clear throughout the years, it's a very peaceful march,' Mora said. "We have one message, which is immigrant rights."
Rose Garden firm announces layoffs
PORTLAND (AP) — With a new company set to handle food-and-beverage service at Portland Trail Blazer games, the firm that will no longer manage the Rose Garden arena has notified state officials it will lay off 900 employees.
The Trail Blazers and Rip City Management announced last week it would take over management of the Rose Garden from AEG Facilities, and that Levy Restaurants of Chicago will oversee food and beverage services.
The new agreement takes effect July 1.
AEG Facilities notified the state it will lay off the 900 employees on June 30.
Affected workers can reapply for jobs under the new manager. A Trail Blazers spokesman told The Oregonian newspaper he doesn't know how many people will be hired for food service and other services under the new management plan.
Senate OKs service animal bill
SALEM (AP) — The state Senate has approved a bill establishing guidelines for service animals
Under Senate Bill 610, a service animal would be defined as one that is trained to perform tasks for someone with a disability.
The issue arose because people were taking all kinds of pets into restaurants and stores, and passing them off as service animals.
The lead sponsor of the bill is Sen. Jeff Kruse, a Roseburg Republican. While working on the bill, he heard of someone bringing a service snake to dinner.
The Senate approved the bill unanimously. It now goes to the House.
Worker dies in meat grinder
CLACKAMAS (AP) — A cleaning worker was killed when he fell into a running grinder at a meat-processing plant, the Clackamas County Sheriff's Office said.
Deputy Nate Thompson identified the worker as Hugo Avalos-Chanon, 41, of Portland. He worked for DCS Sanitation Management, a cleaning company that has a contract with Interstate Meat Distributors.
Paramedics and sheriff's deputies were called around 11:45 p.m. Friday, after Avalos-Chanon was found entangled in the machinery. Another worker had hit an emergency stop button, but it was too late, Thompson said. Firefighters returned the following day to dismantle the machine and remove the body.
Oxycodone distributor sentenced
PORTLAND, Ore. (AP) — A Nevada man who prosecutors say played a pivotal role in an oxycodone distribution ring has been sentenced to 17 ½ years in prison.
U.S Attorney Amanda Marshall said after Monday's sentencing in Portland that 27-year-old Kingsley Osemwengie and an accomplice from Oregon netted millions by arranging for tens of thousands of pills to be distributed across the U.S. They used call girls and couriers to transport drugs and money. The defendant, who pleaded guilty in December, created several shell companies to disguise the source of his income.
Whatcom border crossings spike
BELLINGHAM, Wash. (AP) — The number of Canadians crossing into the United States through Whatcom County increased 10 percent in the first three months of this year, compared to the same period a year ago.
The Bellingham Herald reports more than 3.6 million people traveled south through five border crossings in the county.
Western Washington University's Center for Economic and Business Research says large Whatcom County retailers are doing a better job of catering to the Canadian market.
The Bellingham International Airport also appeared to be a popular option with Canadian vacationers. The airport set a record with 61,402 people flying out in March, topping the previous record of 55,407 set in July of 2012.