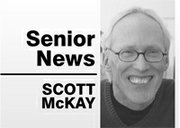 The Dalles — Do you expect you will ever need long term care services? And knowing that Medicare does not cover long term care, are you prepared to pay for it, i.e. long term care insurance or personal assets?
The reality is 70 percent of Americans over 65 will need some kind of long term care for an average of three years. But the ability to provide long term care for everyone who will need it in the future is in doubt because of several conflicting national dynamics.
Ever since Medicare and the Older Americans Act were passed in 1965, there has been a national effort to care for and protect vulnerable seniors so they can live with dignity and independence. But an escalating number of adults over 65 will not be prepared financially to afford the high costs of long term care and will eventually spend down their limited assets qualifying for Medicaid assistance. While at the same time, there is currently a significant national movement to reduce the size and cost of government including Medicaid.
Long-term care is expensive. The average annual cost for a semi-private room in a nursing home is $73,000. (In 2009, Medicaid paid for 40 percent of all nursing home spending in the US.) And a Licensed Home Health Aide costs $43,472. Already the elderly account for 25 percent of annual Medicaid spending while being only 10 percent of Medicaid enrollees
You can learn more about this complex and critical national issue at the center's 11 a.m. Tuesday lecture on May 8. We will watch and discuss a March 20, panel discussion, convened by The SCAN Foundation, "on practical options from various perspectives for increasing access to affordable long-term care services for the millions of Americans needing this support."

The SCAN Foundation is an independent, non-profit public charity devoted to transforming health care for seniors in ways that encourage independence and preserve dignity. You can learn more about the challenges of providing long-term care at their website http://thescanfoundation.org/.
Before the hair line recedes and what's left turns grey, playing tonight at the center is For the Good Times. Then starting at the top of the batting order for a new month, on May 7 "The Strawberry Mountain Band" will play for your dancing and listening enjoyment. Music starts at 7:00, everyone is welcome and donations are appreciated.
The terrible-tasting oil many mothers used was castor oil, but other responses I received which may also bring back memories were cod liver oil and Fletcher's Castoria. (And the randomly selected winner is — drum roll please — Talie Kingsbury.)
But back to pop culture during the 1950's — and thanks to Annie Lane for suggesting this week's Remember When" question. What was the name of the talking mule, star of seven popular movies in the 50's, who befriends a hapless young soldier named Peter Stirling? E-mail your answer to mcseniorcenter@gmail.com, call 541-296-4788 or mail it with a picture of the Army's 123rd Mule Detachment.
Well, it has been another week enjoying the ride while keeping an eye out for the potholes. Until we meet again, do you ever have one of those days, when listening to folks debate whether the glass is half full or half empty, you'll just glad there's still water in it?
Menu
Wednesday (1) Meatloaf with Au-Gratin Potatoes
Thursday (2) Pork Medallions
Friday (3) Lemon Pepper White Fish
Monday (6) Salisbury Steak
Tuesday (7) Turkey with Gravy