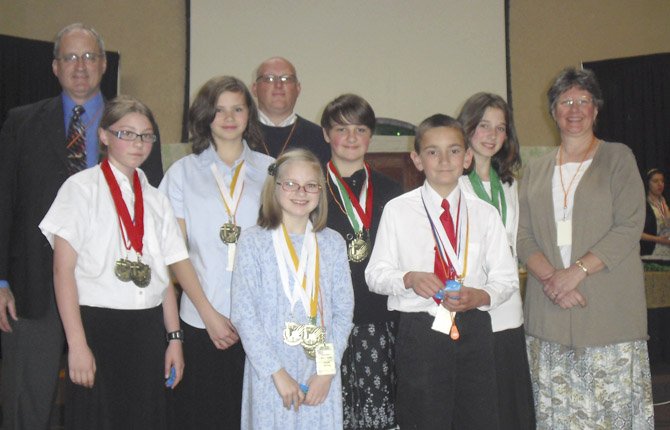 Students at Sonrise Academy in The Dalles came away with memories, new friends and 29 medals during a recent set of competitions for students in private Christian schools in the region.
Chess, checkers, soccer, photography and woodworking were just a few of the subjects the Sonrise students competed in during the 2013 Pacific Northwest Accelerated Christian Education Convention on April 18-20 in Turner, Ore.
"My favorite was football," said Mike DePaepe. He won first place for his performance in the football drills, which judged accuracy and distance.
He said he also really enjoyed the Scrabble tournament, where one game was so close it was decided by three points.
Kim Winters won first place for a still life photo of a rooster statue surrounded by plants on a porch. She said the only reason she had one point out of 100 taken away was that she forgot the instruction that the still life had to be indoors.
McKenzie Johnson said she enjoyed the convention where she competed in things like the knowledge bowl, softball throw and an obstacle course.
"It's just kind of fun competing against other kids and seeing how well you do against kids you don't know," she said.
She said students can choose which categories they want to enter based on their skills. Events include various athletic competions, academic contests, arts, crafts and speech.
Halie Beall said she enjoyed meeting new students at the convention while she competed against them.
According to Baily Nearing, the whole convention was "a lot of fun," including the rallies and other activities that happened in between competitions.
Sarah Winters and McKenzie both placed well in the Bible memory challenge by seeing how many words they coule memorize in the book of John. Sarah memorized all of John chapter 1 and some of the second chapter, while McKenzie memorized over 900 words.
Scott Winters, the principal at Sonrise, said watching some of the performances students put on was "incredible."
"There was a piano solo that was remarkable," he said. "It's an amazing event."
Winters said Sonrise usually competes at the Northwest convention, as well as one for older students.
Several of the students who went to the recent convention said they planned on entering several competitions at next year's convention.
Convention Awards
Academic Division
Bible Memory: McKenzie Johnson (1st); Sarah Winters (3rd)
Checkers: Bailey Nearing (5th)
PACE Bowl: Mike DePaepe and McKenzie Johnson team (2nd)
Scrabble: Mike DePaepe (1st)
Spelling: Halie Beall (5th)
Art Division
Floral Arranging: Kim Winters (3rd); Bailey Nearing (5th)
Interlocking Blocks: Mike DePaepe (4th); Sarah Winters (5th)
Scrapbooking: Sarah Winters (3rd); Kim Winters (4th); Bailey Nearing (5th)
Woodworking: Halie Beall (2nd); Bailey Nearing (3rd)
Photography Division
Character Trait (Color): Bailey Nearing (1st)
Color Plants: Bailey Nearing (6th)
Color Scenic: Sarah Winters (3rd); Bailey Nearing (6th)
Still Life (Color): Kim Winters (1st)
Athletic Division
Challenge Course: McKenzie Johnson (2nd); Halie Beall (3rd); Mike DePaepe (3rd)
Football Drill: Mike DePaepe (1st)
Soccer Kick: Mike DePaepe (1st); Halie Beall (3rd); Sarah Winters (4th)
Softball Throw: McKenzie Johnson (2nd)