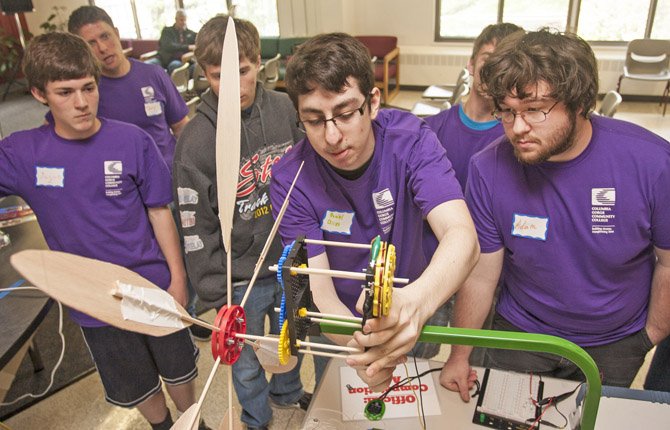 Nineteen high school students from The Dalles, Maupin, Lyle and Klickitat gathered recently at Columbia Gorge Community College to test their technology and science skills in the second annual High School Wind Challenge on April 20.
Students, in teams of three and four, were charged with a task of designing, building and testing wind turbine models. While the frame and parts were provided, students needed to build turbine blades, gearboxes and alternators.

"It was important to leave students as much freedom in the building process as we could organizationally afford. It is in those ambiguous moments that students have to think critically, research, and discuss what they do to make the best decisions for their project," said Michal Kawka, a coordinator of the event.

Four final wind turbines, each representing a different school, were submitted for the official competition which tested the turbines' mechanical power and electrical output. In addition, each team was scored for the public presentation on the design, investigation, testing and troubleshooting of their device.
"We needed to work very effectively as a team to build our model and prepare a presentation in those few hours. It was very cool. I am really glad I came," said Chad, a freshman from Klickitat High School and a member of the team that was awarded the first place.
To help students with more advanced aspects of building the wind turbines, each team was assigned a CGCC Renewable Energy Technology second year student as a technical advisor.
"It was great to have Tom, a CGCC student, on our team. He not only helped us understand some technical aspects of alternators and electricity but he also made us work together," said Logan from Klickitat High School.
The High School Wind Challenge is one of the events at Columbia Gorge Community College to foster interest and popularize knowledge about renewable energy among youth.
For more information on other events visit: www.cgcc.us/calendar.