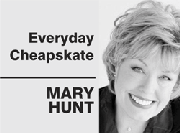 DEAR MARY: At age 46, I went back to school and chose University of Phoenix because I could go to school online and continue to work full time. Five years later I received my bachelor's degree at age 51.
I was proud of myself, but I work at a grain elevator in a small town and discovered that my new degree meant nothing to my employer. So it has done me no good. Now I face all the student loans. I just discovered that it will take 30 years to pay off my $71,000 in school loans.
The current $236 monthly payment is already stretching me. I can't afford to pay more each month, and the thought of throwing away all that money on interest and paying until I die has me super-stressed.
Is there any way that I can get at least some of this debt forgiven? I just don't know where to turn. — Susie, Illinois
DEAR SUSIE: Reading your letter made my heart hurt. Oh, how I wish you'd written before you made the decision to take on so much student debt. I would have offered you my Rule of Thumb for student debt: Do not borrow more for college than you expect to earn the first year out of school.
I can tell you that repayment plans for federal student loans have become more generous recently, as some new rules have gone into effect. Ask your loan servicer about the "Pay as You Earn" option, which became available to borrowers at the end of December 2012.
This plan improves on the current income-based repayment program, pegging the amount you pay to your discretionary income, and lowers the percentage of income you pay from 15 percent to 10 percent and the number of years over which you pay from 25 to 20 years. At the end of that period, any remaining amount is forgiven.
To qualify, you must have taken out your first federal student loan after Sept. 30, 2007 and received a disbursement from at least one loan after Sept. 30, 2011. Only direct loans are covered. You can learn more about whether you are eligible for this at StudentAid.ed.gov. Type, "Pay as you earn," in the search box.
Mary Hunt is founder of www.DebtProofLiving.com.