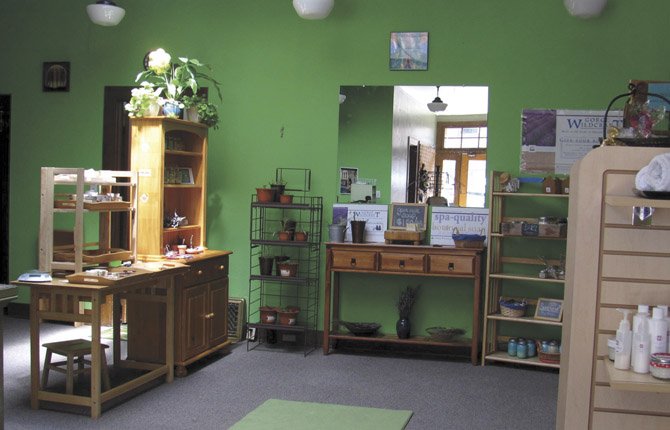 Wasco — Eclectic Wasco shop celebrates its grand opening this Friday
WASCO — There's a new store coming to the tiny town of Wasco.
Just steps from the Oregon Trail, the town of Wasco is known for its wind, wheat, and rich history.
It's a noted stop along a rural scenic byway, and it's a gateway to the new Cottonwood Canyon State Park on the John Day River.
"My family settled in this area nearly 130 years ago," said Jessica Wheeler of Wasco. "A lot of folks live in the same homes their ancestors did, they farm the same land. This is a special place, and we're happy to be a part of it."
Wheeler graduated from Sherman High School in 1998 and received her bachelor's degree from University of Oregon in 2003. She and her husband, Brian Wheeler of Idaho Falls, Idaho, moved back to the family's homestead two years ago before giving birth to twin boys.
Last summer, they started a small family company called Gorge Wildcraft, providing natural soap and skin care products made with pure essential oils and local beeswax.
Their products developed a following at Hood River Saturday Market, and in the fall they opened a small shop in The Dalles featuring natural products as well as local art. But when a retail spot opened in Wasco this spring just a few miles from their farm, they jumped at the chance to take it.
The new Wasco Wild Trading Post will serve as the official headquarters for Gorge Wildcraft. Custom product orders can now be made directly onsite, and bulk natural goods will be available for order, including soap base, raw beeswax, vegetable glycerine and pure essential oils.
The store will continue to carry artisan woodwork from Hood River, fine art from Goldendale as well as local photography, jewelery from artists in The Dalles and beyond, and much more.
The new location will expand to feature antique, collectible and vintage goods, homestead supplies and outdoor stuff, office and craft supplies and kid stuff, as well as local art and gifts.
In the fall they will begin hosting classes and lectures in their small classroom space — from making natural products to gardening in a dry climate, from canning and food storage to knitting and sewing, from brewing beer to from-scratch cooking, there are a range of topics already on the agenda.
"In a rural area, it's important to be flexible and meet the ever-changing needs of our customers," Jessica Wheeler said. "We can help find just about anything, just tell us what you need. Small shops have always played an important role in any community. And at the end of the day, it's really about quality of life."
The store opened quietly the last two weeks of July. A grand ppening celebration is planned all day Friday, Aug. 2, with food and wine and music in the evening. Donations of cash and collectibles kindly appreciated. Contact wascowild@gmail.com or find them on Facebook.
Wasco Wild Trading Post is located at 1015 Clark St. in Wasco.