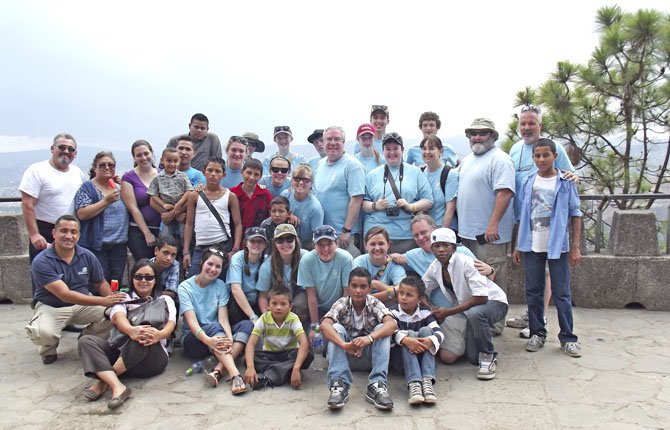 Here's a way to get your kids to take shorter showers and ask for fewer things:
Take them on a mission to Honduras, where they'll stay at an orphanage filled with children who once lived at a dump, where they scoured for garbage to refashion into trinkets to sell and hunted for rotten food to eat.
Tim and Sara Morelli and their three kids have made two such missions as a family, along with other youth from Maupin Community Church, where Tim is pastor.
Their third trip will be in July 2014. Their previous trips were over spring break in 2011 and then in November 2012.
The orphanage, in a town called Talanga, is actually a ranch called Projecto Manuelito, or Project little Man, Sara Morelli said. They heard about it from a good friend, who is founder of Hope Teams, which runs the ranch.
Friends cautioned them against going to Honduras, saying it was a dangerous place. But the missionaries were struck by how friendly everybody was. "People were so excited that you would actually go down to see them," Sara said, "and they'd just touch you and a lot of people would jump up and down and clap and people would say, 'Gringo! Gringo!'"
The orphanage has about 50 kids ages five to 18, all of whom were rescued from the dump. Locally, they are called throwaways. "They are hooked on sniffing glue because it takes away hunger," she said. "It's a very true thing and we all saw it with our own eyes. It's pretty sad, but for our youth from Maupin to go and see the comparison, how we think we are so needy, you know. Teenagers and adults. And then go down and see what a real need is. Quite traumatizing."
In fact, when her kids got home from the orphanage – where running water and power are not a given – they realized they took too long a shower, she said.
"And they ask for way less. I mean, they don't even ask for anything now," she said of her kids, Grayson, 18, Princess Zoe, 17 and Loreto, 16.
"And they care for other people way more. Just seeing a need, they're way more sensitive even to how other people feel."
And as for the transformation in the kids in the orphanage, it is of course even more dramatic.
"They all have a desire to further their education. The can all tell you specifically what they want to do with their future. And back in the dump, they would've just wanted to get food. 'I would just like dinner tonight.'"
The kids end up at the dump if they have abusive or alcoholic parents, and some of their parents died because they lacked medical care. One boy's parents were both murdered.
At the dump, they did anything to survive, including prostitution. Scavenging was taken to an extreme.
"Even the little plastic thingie that connects a six pack, they will create something out of that to make it sellable," Sara said.
Having gotten a sense of the place in her first trip, on the second trip, Sara prepared people well for the privations they might encounter. Indeed, when they arrived, there was no water because someone had stolen the metal water pipes that fed the entire town. Then, just as they sat down for dinner that night, the power went out.
It took a couple months for the city to get its water supply back.
On their first visit in 2011, they learned to tear up their own schedule and go with the flow. They watched soccer games, hung out and played basketball and card games, and did a Vacation Bible School.
On their second trip, since it was almost Christmas, they brought "a bazillion Christmas presents. Every kid got a Christmas package. And we decorated their dining hall for Christmas. I think we bought a Santa suit. I hate to say it, but we definitely Americanized it too much. We had a couple piñatas the night before they left and they definitely had fun with that."
Donations to the orphanage are all given directly to the kids, and consequently, the staff often don't get paid, even though many take an arduous daily trip from a major city nearby that can take a minimum of two hours each way.
So the Maupin church congregation is making it their priority to sponsor the staff themselves.
On the first trip, nobody did any touristy things or trinket-shopping. So, the 14 of them, most of them youth from Maupin, pooled the money they hadn't spent and gave it to the orphanage. They left $900 with the staff.
They also see the value of making the trip personally, and not just sending money.
"We've had other people say, 'Why would I go down there when we can just send money?' Everybody can use it, it's a universal thing. But when you go down there you will be amazed by the amount of people that just want to touch you for taking your time and just going down there. They are so affected by that. And the kids, they are starving for love and affection from people that care about them."