FRIDAY,
AUGUST 2, 2013
Hospital Admissions
August 2 — None Authorized.
Hospital Dismissals
August 2 — None Authorized.
Accidents
Oregon State Police
August 1, 3:15 p.m. – Two vehicle injury crash, West 6th and Walnut Street, The Dalles. Jeremy R. Bailey, 21, and Lamont S. Crichton-Tunai, 32, were the involved drivers. Both vehicle were stopped at Walnut and West 6th Street when the Bailey, who thought the vehicle ahead was proceeding, moved ahead ran into the back of the vehicle driven by Crichton-Tunai. Both vehicles were damaged.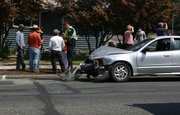 The Dalles Police
August 1, 12:28 p.m. – Two vehicle, non injury accident 1215 West Sixth. Summer V. Vanter, 25, backed into a vehicle driven by Angel R. Ojeda, 76, in the can recycling area. Officers assisted with information exchange.
August 2, 8:44 a.m. – Two vehicle, non-injury accident at Sixth Street and Webber Street. A truck driven by Jose R. Hernandez, 25, was struck by a Toyota driven by Kay Willhelm, 71. Officers assisted with information exchange.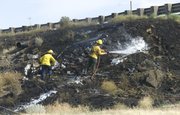 Fire
Mid-Columbia Fire & Rescue
Five fire trucks responded to a second alarm grass fire at I-84 exit 84 westbound Thursday at 4:35 p.m. Fire burned an area approximately 50 by 100 feet. Crews extinguished the fire, checked fuel tanks at nearby Hattenhauers Distributors and cleared a hand line on east end of fire. Cause of fire remains under investigation.
Personnel responded to two calls for emergency medical services.
Police Reports
The Dalles City
Several cars were prowled in the 2400 block of West Sixth sometime Tuesday night or Wednesday morning. Fenced area was entered and two vehicles were damaged, others entered, but nothing was taken.
A male and a female suspect were arrested for assault following an incident in the 2500 block of West Second Thurday morning. Incident involved a small sportscar racing through the area, people yelling out the windows. Wasco County Sheriff deputies assisted with a victim at Second and Webber.
Wasco County
Deputies attempted to locate owners of a homeless camp in the Maupin area Wednesday, but were unable to make contact to have the camp removed.
An injured fawn was dispatched and removed from Highway 197 north of the rodeo grounds Wednesday night.
Deputies contacted a man at Second and Webber streets with injuries to his finger and nose Friday morning, and requested a medic. City police arrested two subjects related to the incident.
Lottery
Oregon
Wednesday, July 31
Megabucks — 05, 21, 23, 29, 36, 48
Powerball — 08, 24, 39, 49, 59 Powerball: 05
Win for Life – 35, 42, 48, 73
Lucky Lines – 4, 7, 11, 15, 17, 23, 27, 31
Pick 4 – 1 p.m., 1, 8, 1, 3; 4 p.m., 4, 7, 9, 7; 7 p.m., 9, 2, 9, 1; 10 p.m., 4, 4, 8, 6
Washington
Wednesday, July 31
Powerball — 08-24-39-49-59 Powerball=05
Lotto — 04-12-15-20-38-43
Hit 5 — 03-17-26-27-29
Match 4 — 01-03-10-17
The Daily Game — 9-5-0
Daily Keno — 03-06-09-11-14-16-19-22-27-40-43-47-51-52-55-57-59-69-71-72