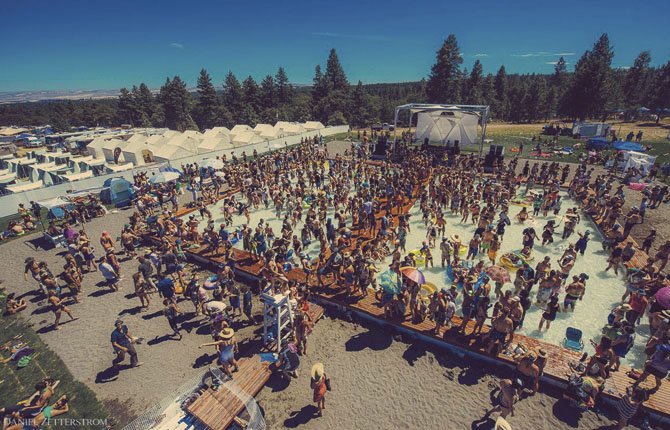 A post-mortem of this year's What the Festival shows mixed reviews from locals who were affected by the 5,000-person music and art festival held at Wolf Run Ranch outside Dufur last weekend.
"People out here are absolutely beside themselves. It was an absolute disaster out here," said David Wherly, a neighbor.
He called the round-the-clock sound coming from four stages from July 26 to July 28 "noise torture in terms of sleep deprivation" for all of the neighbors.
Not everyone had complaints — an employee of Kramer's market in Dufur said business was booming with "kind and wonderful" festival-goers all weekend. And county employees praised the festival as impressively well-organized.
Sheriff's deputy Lane Magill said from a public safety standpoint it went "really well."
"What the Festival did a really good job of security compared to last year. They exceeded what we had talked to them about," he said. "This year they had about one security officer for every 90 to 100 people. They did a really good job."
He said there was only one arrest, of a woman who allegedly attempted to sneak into the festival and then gave a false name to deputies, and there is an ongoing investigation into a "large amount of narcotics" seized from a vehicle. Police logs from the weekend show a handful of other people were either trespassed from the property or voluntarily left; on Wednesday after The Chronicle spoke with Magill a woman contracted to do security at the event told law enforcement someone had tried to rape her during the festival. She wasn't sure which day it happened.
Magill said there were also no notable medical or fire emergencies and traffic, while busy, "sorted itself out" pretty well.
The sheriff's office did field a number of noise complaints. One of the most frequent callers was Cheryl Edwards, who has been staying in a trailer on nearby property on weekends while she and her husband work on getting a house built there. She said the noise coming from screaming fans and bands playing 24 hours a day was torture.
"The walls were shaking, the floor was shaking, the windows were shaking," she said. "We could hear every single word the guy was saying on the microphone … If I tried to drown it with ear plugs and a pillow, I could still feel the throbbing bass. It was like a torture chamber. My husband and I were so tired."
She questioned why she and her husband had to go through "four years of pure hell" trying to get permission to build a home for the two of them but What the Festival took a matter of months to get approval for bringing 5,000 people in. She said she was required to install hooded lighting and a variety of other things to lessen the impact on wildlife, but What the Festival was allowed days of booming noise and floodlights.
"I guess money talks," she said.
Edwards said that moving out to a quiet, forested place in the country has been "our dream," but got choked up as she said she and her husband might have to abandon that dream because of What the Festival, which has been advertising Wolf Run Ranch as its "new permanent home."
She said right now festival organizers are saying the festival will be a once-a-year event, but the property was purchased by Glen Boyd, one of the festival's organizers, and she worries he will decide to make use of his investment other times of the year as well. Edwards said multiple mass gatherings will drive down property values and drive away hikers, bikers and others who use the area for light recreation.
She alleged festival organizers were dishonest with her on numerous occasions. She said Peter Clark, the lead organizer, told her the music would stop around 11 p.m. even though the schedule on the What the Festival website had bands scheduled to play through the entire night. She also said Boyd portrayed himself as just a new neighbor who had decided to allow What the Festival to use his property when in fact he was one of the founding members of the festival.
What the Festival organizers did not respond to The Chronicle before publication time.
County Commissioner Steve Kramer said that he did hear negative comments from a few people but said the majority of neighbors he called said the noise was bearable and they were OK with it if it only happened once a year.
He said the festival brought in thousands of people who spent money in the area, but the economic impacts were felt beyond that — What the Festival organizers rented equipment from local businesses, hired local people for things like site preparation, contracted with local vendors and found other ways to add money to the local economy.
Kramer visited What the Festival during the event and said he was impressed with the organization and professionalism and the way staff were making sure customers were being taken care of, including making sure they didn't get dehydrated.
He said two issues that he would want to discuss with organizers were improving traffic flow into the site and perhaps working out some sort of compromise about noise.
"If I was twentysomething and paid good money for this event I would assume I would want the music to last as long as it could, but you also have to think of the neighbors," he said.
Overall, he said it was "a good event for us to give it another shot."
County commissioner Scott Hege didn't go inside the festival but did do a ride-along Saturday night with the sheriff's deputies. He said he went around the outside of the festival, including Edwards' driveway, and used an app on his smartphone to measure noise, which was mostly at 50 decibels and occasionally peaked at 60.
According to ask.com, 50 decibels is the level of noise a running refrigerator makes and 60 decibels is equivalent to a normal conversation. However, ratings of various noise-measuring applications note that the apps don't pick up low-frequency noise (like a thumping bass beat) well.
"If you look at those sound pressure readings, it's not hugely loud, although it is enough sound to wake you, which is the real issue. But I was sitting there having normal conversations with people," Hege said.
From the viewpoint of festival-goers, What the Festival seems to have been a great success. The author of the blog "The Festival Guy" gave it a five-star review, calling it a Las Vegas pool party with cooler people.

"The organization at WTF was superb. There were not lines for anything, the bathrooms were super clean, the fairgrounds were spotless, and everything was on time. This festival was clearly thrown by people who know what they're doing and know what to expect," he wrote.
The What the Festival Facebook page, which has more than 13,000 likes, was full of positive comments calling it "amazing" and "one of the best outdoor events I have attended." Several commenters said they couldn't wait to come again and bring more of their friends.
Neighbors Edwards and Wherly said they plan to do everything they can to make sure What the Festival doesn't come back. But even if county commissioners were to deny What the Festival a mass gathering permit for next year, anyone can have up to 3,000 people on their private property without a permit, so the festival could still go on in a smaller capacity.
Wherly and Edwards both said they felt that laws were broken to make way for the event. For example, mass gatherings are not supposed to change the landscape in any permanent way, but Wherly said that permanent improvements such as the "driveway" supposedly constructed for the residence located on the property were clearly built for the festival. Edwards said the event was not, as stated by mass gathering permit rules, "compatible with existing land uses" on the agricultural and forest land where it was held.
Wherly said he plans to work on getting Wasco County to pass a noise ordinance to prevent residents from being kept awake by another "mini-Woodstock" in the future.