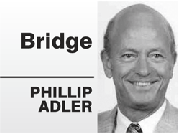 Bob Hope said, "Virus is a Latin word used by doctors to mean 'your guess is as good as mine.'"
Since bridge isn't always a perfect science, capable of exact calculation, every player has to guess occasionally. But when you have to guess, consider each sensible choice and try to select the one that you think will work most often.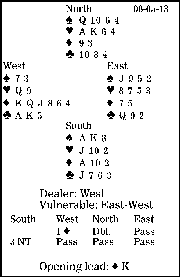 South guessed well in this deal from a social game. After West's one-diamond opening (that hand was far too good for a weak two-bid), North's two-club overcall, and East's pass, South advanced with a forcing two hearts. (More pairs treat this bid as encouraging but nonforcing; I prefer forcing by an unpassed hand.) When North rebid two no-trump, what should South have done next?
Many players would have immediately raised to three no-trump. But that contract would have had no chance — assuming East led the diamond seven, not a spade.
At the table, though, South forced to game with a three-diamond cue-bid. And when North admitted to secondary heart support with a three-heart bid, Suth raised to four.
True, this contract would have failed if the defense had gone club ace, club ruff, diamond to the ace, club ruff. But no West was ever going to guess that. Instead, he led the spade eight. Declarer won in his hand, drew trumps, and drove out the club ace. West had to cash the diamond ace to stop a second overtrick.
Irrelevant to this deal, if you study results, you will see that experts guess better than nonexperts.