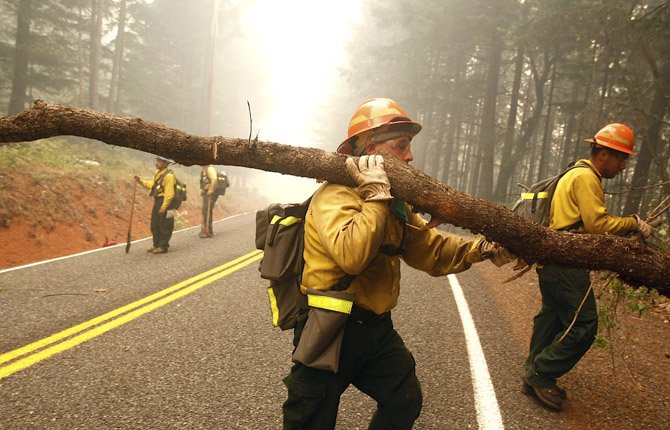 The wildfire that took the life of firefighter John Hammack of Madras this past week struck just a little too close to home, and that fact was illustrated by a photo taken by Michael Sullivan of the Roseburg News-Review that accompanied the story.
Pictured carrying a downed limb across a roadway, at right, are Mario Carmona and Ismael Vega, two The Dalles firefighters working another fire in the Cascades Range.
So this loss may be Madras', but it's personal nonetheless, and we mourn with their families and communities.
These are hometown men putting their lives on the line in the dangerous environs of burning forests. Some local residents may have gone to school with these men, or in Hammack's case, have played against him in high school sports contests earlier in their lives.
Carmona and Vega are just a few of the more than 4,700 firefighters still battling blazes burning on more than 60 square miles in Oregon. And this is just the beginning of what is our typical wildfire season.
Firefighters had the first inkling of what this season would be like way back in May. Unusually high temperatures and unusually low rainfall combined, and smaller fires began to flare up months before they would have been anticipated in a normal year.
Despite a brief interval of heavy rainfall, higher than usual temperatures and typical winds have continued to dry the landscape to tinderbox status.
The least spark is all it takes to ignite yet another conflagration, where yet another firefighter runs the risk of death.
Oregon Forestry officials are warning that individuals should work to reduce the risk to their homes from wildfire: pruning trees away from structures, removing dead vegetation, keeping grass short and green, planting fire-resistant landscaping and always keeping in mind defensible space and access for large fire trucks.
Long driveways should be at least 12 feet wide and have 10 feet of vegetation clearance from the center line out, and about 14 feet overhead. Large vehicle turnout areas are critical not only for the safety of residents but also firefighters.
People who think a wildfire won't happen to them should consider their acquaintances who have had it happen, and remember that it doesn't take human error to start a fire.
At the public policy level, this year should serve as a reminder to legislators and administrators that forest policy should factor firefighter safety as its top priority.
Could some of these massive blazes been avoided or moderated if better forest management practices were in place?
Is fire response adequate, despite sequestration, to battle these blazes as effectively as possible?
As populations have become more urbanized, it is important to remember that we in Oregon live on the fringes of massive wild areas that can react unpredictably — and dangerously — to natural forces.
The people who combat those forces are always at some risk.
As their employers, it is up to the public to minimize that risk as much as possible.