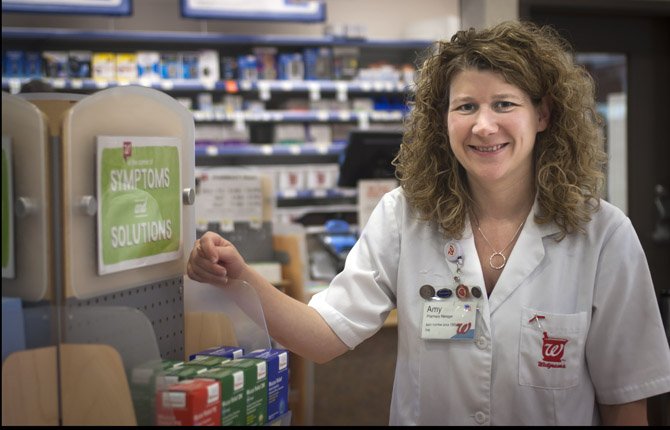 For Amy Howe, being the Walgreens pharmacy manager is as much about people as it is about pills and prescriptions.
"Some customers I've had since the beginning," Howe said. "They're part of my life. They've been through my two pregnancies too so they're always asking about my children and how they're doing."
Howe said she chose a career as a pharmacist to play to her strengths in math and science, but also to hold on to the retail aspect she loved when she worked at a gift shop. She said she likes connecting with people, even if it's just for those few minutes she is ringing up their purchase.
She says it "wasn't a straight shot" for her to get her bachelor's degree in pharmacy, because she had to work and pay for college as she went along.
Originally from Michigan, Howe was working at a Walgreen's in Portland when she met her now-husband online and things began to get serious between them. He was from The Dalles, so she couldn't believe her luck when Walgreens announced a new store in The Dalles. She requested a transfer and moved here in 2005 to become the pharmacy manager at the new location.
In the years since she became a pharmacy tech in January 1999, Howe said she has seen plenty of changes in the industry. Part of her job is dealing with shifting regulations, such as efforts to stymie methamphetamine producers by making pseudoephedrine a prescription drug in Oregon.
Howe has also seen increased efforts to prevent prescription painkiller abuse such as checking to make sure a patient has established care and questioning why someone with a prescription from Portland is buying their medications in The Dalles.
"There was a major fake prescription ring in Portland that got taken down," she said.
When she first moved to The Dalles she said she noticed that when one pharmacy in the area had a suspicious buyer they didn't communicate that with other pharmacies in town. She helped get the local pharmacies working with each other and with law enforcement to stop drug dealers from spreading their purchases around to remain inconspicuous. Another change Howe has seen is that many pharmacies now provide flu vaccinations during the winter.
"I never thought in a million years that I would be immunizing," she said. "If I had wanted to deal with needles I would have been a doctor or a nurse."
She said she's gotten over her dislike of needles by now, but doing immunizations is still hard because it adds to her already very busy workdays. She said she's on her feet for her entire eight and a half hour shift, talking to customers, filling prescriptions, fulfilling her managerial duties and making phone calls to doctors.
Howe said her pharmacy makes about 10 phone calls a day to doctors' offices about prescriptions that are incomplete, hard to read or seem off in some way. After doctors write prescriptions, pharmacists help add another layer of oversight to make sure customers are getting the right dosage and aren't taking something that could react badly with another of their medications.
Howe said she takes that duty very seriously, even if it means customers don't think they're getting their prescription filled fast enough.
"We get treated like McDonalds, because we have a drive through, but we're not handing out a burger and fries, we're handing you a medication. We don't want to kill you. It's not the same as 'oops, I gave you onion rings instead of fries,'" she said.

Howe said a challenge of her job is trying to get people to take responsibility for not only taking their medications regularly but also knowing what they are and what they are for.
"People say 'I just need my blue pill,' and they don't even know what it is," she said. "I'm trying to get you to take care of yourself. I will help you but you need to be responsible for your own medications."
She said one thing that makes her job enjoyable is that she has a wonderful staff.
"To have a good pharmacy you have to have good technicians. They're the heart and soul of the pharmacy," she said.
Howe said on the weeks she works the night shift she doesn't get to see much of her children, so when she has spare time on weekends and evenings she likes to spend a lot of it with her family. As much as she enjoys being a pharmacist, she also takes pride in being a mother.
"My daughter just rode her bike without training wheels for the first time," she said proudly.