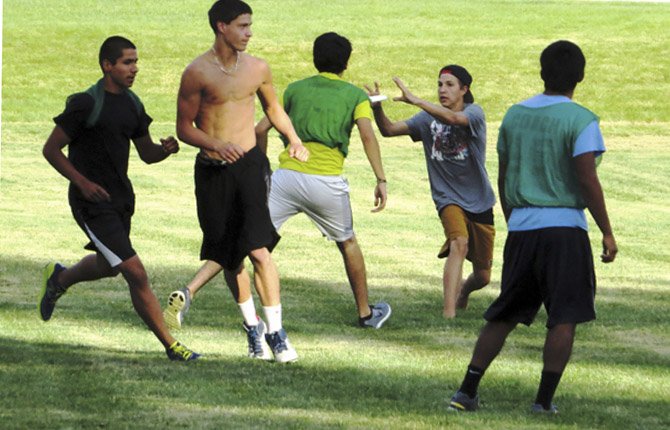 If the salt and pepper in his hair is any indication, Glenn Wood is a little older than most of the teammates he plays Ultimate Frisbee with Monday nights at Sorosis Park.
But that's OK, he says.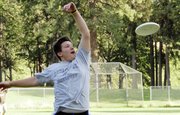 "I enjoy coming out and running around, getting some exercise in and showing the young people that old people still have game," Wood said July 29 before heading out onto the field. And, he is pleased to say, once in a while "old age and treachery" can defeat youth and energy.
Ultimate Frisbee players gather Monday nights at around 6:30 p.m. The teams are informal. Lindsey Rose from Northern Wasco County Parks and Recreation, who founded the program, brings vests to distinguish one team from another.
Ross Kohl, 16, is on the other end of the age spectrum. He started last season.
"I play a little bit," he said. "It's a good workout. It's fun. These are great people and we have fun."
David Esquivias agrees.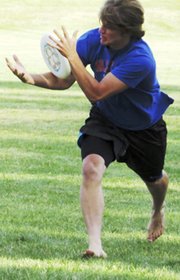 "It's challenging and these are pretty good people," he said. "They're out here to play."
On this particular day, a group of teens joins the group who had been enjoying a casual football practice to stay fit for the upcoming high school season. The weekly play is casual that way. Anyone can join in.
They're able to field three different teams so one will rest while the others play.
The rules are a bit like football and a bit like basketball: The object is to get the Frisbee into the hands of a teammate in the proper end zone to score one point. Players can run to catch, but once they've caught the Frisbee, they have to stay where they are until after they've thrown.
The action is fast and furious, and goals come quickly. A game to five points takes as little as 10 to 15 minutes.
"We play until we get tired," said Wood, "usually a race to 10 or 15. If it's close we'll say you have to win by two."
Despite being just for fun, the play involves plenty of competition as players race back and forth down the field, guard the Frisbee carrier as they try to find an open player to throw to, and make balletic leaps to grab the disc from the air.
Play season is two-thirds of the way finished, but players have a big tournament coming up. It's called the Tree Top Hat Huck Ultimate Frisbee Tournament because names for teams are drawn from the a hat.
"A lot of kids show up and people from the community," Wood said. Last year's tourney was played in 102-degree weather.
The tournament is Saturday, Aug. 17, from 9 a.m. to noon. It's free and open to teens and adults.
Contact Parks and Rec at 541-296-9533 to learn more.