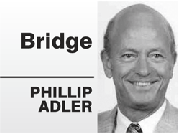 Edward R. Murrow is a central character in the World War II book "Citizens of London" by Lynne Olson (Random House). Murrow said, "The speed of communications is wondrous to behold. It is also true that speed can multiply the distribution of information that we know to be untrue."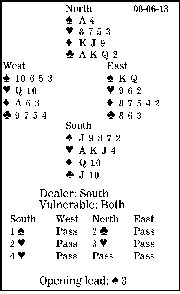 At the bridge table, since cards are hidden, distribution information can be uncertain. Players must try to allow for as many as possible. This deal is an example. South was in four hearts. How did he play after West surprisingly led the spade three and East dropped the king under dummy's ace?
North and South were using two-over-one game-forcing, so three hearts was forcing. South signed off in four hearts because he had a minimum opening bid.
At trick two, declarer led a heart to his ace. When West dropped the 10, South wondered if this was a singleton or from a doubleton queen-10 or 10-nine. Rather than decide immediately, declarer led his diamond queen. West won with her ace and played another spade. East took the trick with his queen and returned a diamond.
Now South had an almost sure thing. He carefully played a heart to his king. Here, the queen dropped, so he drew the last trump and claimed an overtrick. But if West had discarded, South would have played on clubs, discarding spades and holding East to one trump trick.
Note that if South had finessed his heart jack at trick five, he would have failed, because West would have won the trick and led a spade, East overruffing dummy's heart eight with his nine.