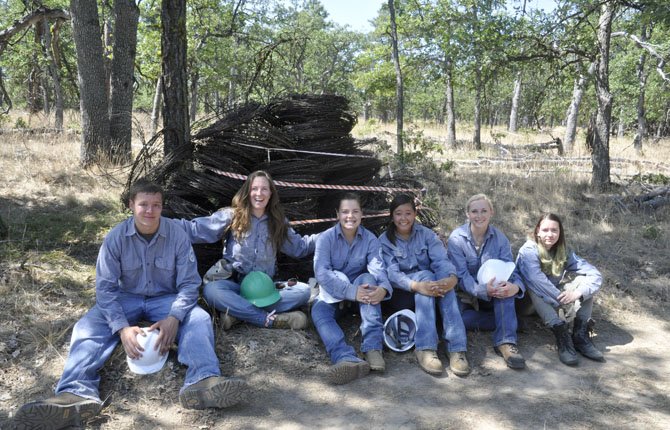 The weather was sweltering, the trek up the mountain long and steep and the coils of barbed wire unwieldy, but the members of the Youth Conservation Corps didn't complain.
The crew — four girls and a boy, all teenagers — was busy removing the rusty wires from a stretch of national forest on Monday. At one point the barbed wire served a purpose, but over the years it has become nothing more than a rusty trip wire for hikers and animals.
"It's a really bad fence. It goes through trees and some of it's under the ground," said crew member Jonathan Buntin.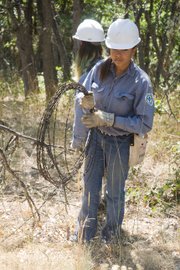 The project is one of many the Youth Conservation Corps has tackled this summer. The corps is a summer work program through the Hood River and Barlow Ranger Districts in which teenagers spend eight weeks doing conservation projects in the national forest. They get paid minimum wage for 40 hours a week; for most of them that money represents their first real paycheck.
David Gross, the YCC program manager for the Mount Hood National Forest, said the objectives of the national program are to provide meaningful work experience for young people, accomplish needed conservation work on public lands and teach youth about the environment.
"A fourth objective, which isn't written into the law, is for these young people to experience some personal growth," Gross said. "I always tell them they will change after eight weeks in the program."
The teens said they have learned a lot in the last seven weeks. Lexi Barlow said the Youth Conservation Corp has taught her about having a good work ethic and working well with others. Buntin said he has learned about conservation of natural resources and the amount of planning it takes. Hannah Harris said she has enjoyed learning to identify a variety of plants and animals.
"I didn't know there were that many different kinds," she said.
Other projects the crew from the Barlow Ranger Station have tackled include clearing out invasive species of plants, repairing a "guzzler" that collects rainwater for wildlife to drink, clearing trails and removing rocks from forest roads.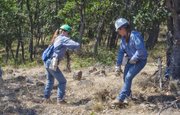 Gross said he and crew supervisor Lea Ryan (née Rachford) expect the youth to work hard during their 40 hour workweek and to treat their time in the corps like a "real job." Crew member Heaven Munger said she liked being treated like a grown-up employee, complete with two official job reviews.
"We get evaluated, and I can take that to a future employer and say 'This is my strengths and my weaknesses and here is how I worked on it,'" she said.
Ryan said she came back for a second year as a crew supervisor because her "big, overarching mission in life" is to help humanity connect better with nature and she believes educating young people about nature is one of the best ways to do that. She said a part of each day is dedicated to teaching the young workers about nature.
They also get a chance to experience it on their own during the job.
"We had a great sighting of a cougar the other day," Ryan said. "We were in a truck and it ran straight across the road."
The crew members said despite the heat and the physical labor they enjoy getting to work outside and getting to know the national forest near their homes. Several had a favorite view they saw one day on the job.
"My favorite day was when we cleared trails by a lake and we got to hang out by the water. It was a cool spot," Teneille McDonald said.
Next summer a new batch of five crew members will be able to work in the Youth Conservation Corps in the Barlow District. Gross said spots are chosen by lottery if there are more applications than spots. He said after Congress stopped sending money for the program he began collecting donations from "funders who like the idea of putting kids to work in a positive, constructive way that will change their lives."
This year's program is paid for by donations from the Oregon Youth Conservation Corps, Trust Management Services, the Wasco County Soil and Water Conservation District, the Forest Service's Office of Civil Rights and its Conservation Education department.