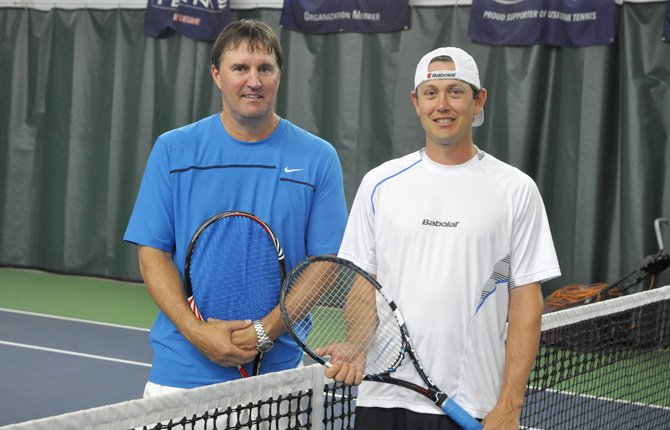 Two local tennis pros are putting the Columbia Gorge on the map in Pacific Northwest competition through the United States Tennis Association.
David Sturdyvin and Craig Pearce both hold No. 1 rankings in their age brackets. Sturdevin for 45-and-older men's singles and Pearce for men's 35 doubles. Pearce is also ranked No. 2 in 35-and-older men's singles and mixed 35 doubles. They hold their titles for a full year.
Both men are tennis pros at The Dalles Fitness and Court Club. Pearce has been working there since 2004. He's been playing tennis since middle school.
"I used to take lessons here from Gerry Farmer," Pearce said.
Pearce used to teach in Vancouver, Wash., and his doubles partners are both from there, Mike Mon in men's doubls and Sanja Lemes in mixed doubles.
Standings are scored on a points system, with each tournament having a number of points associated with it.
"It's a nice way to stay in shape and keep playing tennis," he said.
He credits good local practice partners with helping in keep his game in good condition.
"A big reason is being able to practice with David a couple of times a week," Pearce said. He also practiced with The Dalles Wahtonka grad Lincoln Gay, who plays tennis for Lewis and Clark College. Sturdyvin returns the compliment, giving practices with Pearce credit in helping him hone his game.
Pearce said he is focusing on doubles and team tournaments.
"We're all kind of in it together," he said. "We're all friends and it's more fun to go to a tournament with friends than just on your own."
Sturdyvin has been playing tennis since fifth grade, competing in high school and in college at Eastern Washington. He credits his success as a singles player to "being consistent. I haven't had any really bad tournaments."
He may not always win, he said, but he racked up points by being successful in early rounds.
Sturdyvin has been teaching at The Dalles Fitness and Court Club for four years and before that for 25 years at the West Hills Racquet Club.
He says he competes for "love of the sport." He enjoys the competition and being able to measure his improvement.
One of the things he and Pearce both like about the United States Tennis Association is that anybody can participate.
"If you get online and look at the tournaments they have them for all skill levels and all age brackets," he said.
Sturdyvin said it is notable two have two Northwest champions from one small area.
"We're guys from Hood River and The Dalles competing against people from Portland and Seattle," he said.
Sturdyvin hasn't been playing for the past six months as a consequence of plantar fasciitis, but hopes to be back in action late this fall.