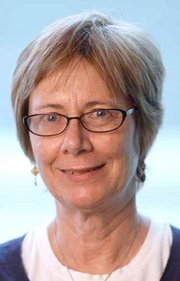 Loretta DeKay of White Salmon has been appointed by Washington Governor Jay Inslee to join the Columbia River Gorge Commission.
Inslee believes DeKay will bring a combination of analytical and communications skills to the bi-state entity. She has a master's degree in biological oceanography from the University of Rhode Island and more than 10 years experience as a fishery biologist with the National Marine Fisheries Service in Narragansett, Rhode Island and Galveston, Texas.
Regular moves within the US and overseas with her husband, Lloyd, an exploration geologist, were the impetus for her second career as a substitute teacher in junior high and high schools, English as a Second Language tutor, and as a consultant for 'settling in' programs for international employees.
Since moving to the gorge in 2007, DeKay has been active with the Klickitat Democrats, where she served as county chair, on the state committee, and as a 2012 national delegate.
She is also involved with Oregon Nordic Club- Columbia Gorge Chapter, Mt. Hood Wilderness Stewards, Community Partners, Jamba Marimba Band, and as a volunteer at local wineries.
"I am honored to be part of the team that has stewardship of the National Scenic Area. Over the years we've lived here, through community involvement, I've come to appreciate the balance that must be found between preserving natural resources and fostering a vibrant local economy. It is exciting to work with leaders, agencies and groups from Oregon and Washington as regional partners in preserving the uniqueness of the Gorge for its residents and visitors."
Commission Chair Carl McNew welcomed the governor's appointment.
"As chairman, I am pleased to welcome Lorrie to the Commission. As a resident of White Salmon, she brings a unique perspective to the commission. Her community involvement and life experience will be invaluable."
DeKay joins the commission at the start of a new budget cycle — the first cycle in six years that the commission is not facing cuts. Part of the challenge facing DeKay and fellow commissioners will be to build on recent legislative success to address key regional priorities identified by public and private partners in the commission's 2012 Collaborative Engagement Assessment.
The commission and staff have stated that they look forward to working with regional partners to continue building healthy lasting partnerships that increase stewardship for the long-term health of the gorge, its resources and communities.