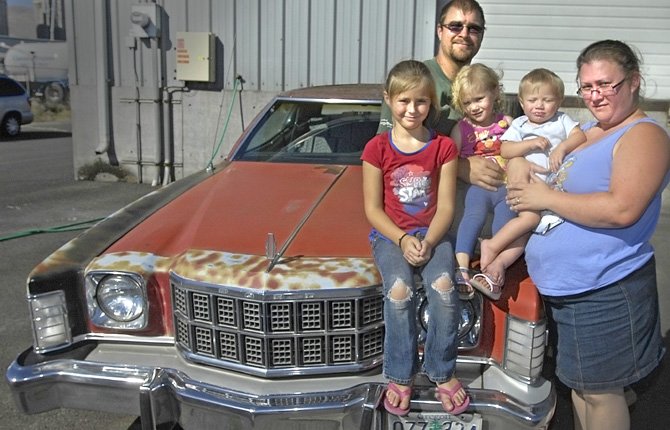 The Dalles — No one gets a free ride at the Vollmar household in The Dalles – but there is plenty of help to steer in the right direction.
Ben and Melissa have offered their three children ownership of classic cars if they buckle down and work hard in school and life. Not only do Jean, 7, Nina, 3, and Andrew 1, have to keep their grades up and stay out of trouble, they have to learn how to repair and maintain the cars they will receive titles to at the age of 18.
"They are going to have to know the ins and outs of their cars," said mom. "And they are going to have to earn money to fix them up."
The Vollmars will be competing in both the Show in the Shade on Saturday at Sorosis Park and the Dufur Threshing Bee car show Sunday at Dufur City Park.
On display will be Ben's white 1975 four-door Mercury Comet made by Ford, one of three classic cars they own. Melissa will, for the first time, be showing off a "rusty-blue" 1968 Ford Mustang that Ben gave her in February as a Valentine's Day gift.
"We all love to go to car shows and look around," said Melissa, whose relationship with Ben began with a common interest in cars. "She was so-so on football, but she surprised me by saying that she likes to watch NASCAR races," he said.
Because of their passion for cars from bygone eras, he decided to propose to Melissa in 2010 at a NASCAR competition in Las Vegas, Nev. He said she was surprised but quick to give him an enthusiastic "Yes."
Andrew is the first of their children to receive a vehicle, a 1974 Ford Grand Torino, that Ben got for free because the owner wanted it removed from the field where it has been sitting for seven years. Dad is giving his son lots of free time until age 3, when he will be given a wrench and begin to learn the art of automotive repair.
"We don't see the roughness, we see the potential, the beauty," said Ben.
Andrew's nickname during Melissa's pregnancy was "Hot Rod" and he seems to be living out the title with a total fascination of all things motorized and preferably noisy. He also loves finger foods and, at the time of this interview, chose to sample goodies from the tray of his highchair rather than answer the questions of a reporter.
"He loves to get behind the wheel of his car," said Melissa, pointing out several pictures with a laughing and smiling Andrew standing on the front seat of the Torino to see over the steering wheel.
The girls are waiting for the right model to become available. Nina wants a replica of the psychedelically painted "Mystery Van" in the Scooby Doo cartoon show. Jean is angling for a duplication of the "Bumble Bee" car from a Transformer movie that is painted yellow with black striping.
It is no surprise to Melissa that Nina would pick models from the two shows since they are some of the few cartoons the children are allowed to watch.

There is no television in the Vollmar household and the kids are encouraged to read and spend time developing their imaginations in play.
Ben was a disabled Army veteran and the single father of Jean when he and Melissa started dating in 2009 and then married in 2011. The blended family moved from Southern Oregon to The Dalles a little more than 18 months ago so that he could take a job with Green Home Construction, a local company that specializes in weatherizing houses to make them more energy efficient.
Their hobby is expensive, it will take about $15,000 to restore each car, but the Vollmars say the expenditures are a good investment. Ben paid $600 for his Comet that was stored in a barn along with other old cars and is now valued at $6,000. He has received an offer for $11,000.
But the greatest benefit of their investment, he and Melissa say, is in the camaraderie the family enjoys while working on a common project, and the people they get to meet while participating in car shows and belonging to a club with members that share their enthusiasm.
"There are very, very nice people out there and this is the best way for us to get involved in the community," he said.
Ben is proud to have won the Most Patriotic award at a July Fourth show in Rufus because of the "Support the Troops" magnet and Wounded Warrior Project decal affixed to rear of the Comet. He also recently took home the Sponsor's Choice award from a show in Hood River.
If anyone in the area has a "Mystery Machine" or "Bumble Bee" to sell, the Vollmar's invite them to drop by any of the weekend car shows and make an offer.