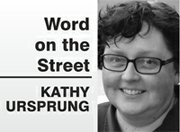 The Dalles — Ever since I was a child I have had this instinctive urge for expansion and growth. To me, the function and duty of a quality human being is the sincere and honest development of one's potential.
— Bruce Lee
A little good news to the south: Summer is the time of year when Wasco County gains about a third in size as vacation and snowbird residents return to Pine Hollow and Rock Creek communities outside Wamic.
Though not an incorporated city, Pine Hollow is Wasco County's second-largest city during the summer as thousands of part-timers take up residence.
But the second-home capitals of the county have undergone some difficult times in recent years as many were forced to sell or lost their second homes as a consequence of layoffs, retirement fund slumps and other economic reversals.
Unofficial word this year is that things are picking up in the vacation home arena and quite a few homes have sold at Pine Hollow.
We hope this is a sign of a little more stability to come in both job and retirement income.
Growth potential: The Oregon Entrepreneur Network (OEN) Gorge Accelerator Boot Camp2 is coming up this fall, but the deadline to apply is this Friday, Aug. 9.
The eight-week program meets weekly at Gorge Innoventure in Hood River. They match early-stage growth companies with mentoring and business training to get them moving faster and with greater support. They also provide training and support for pitching each company, along with a spot to pitch at the Gorge Angel Conference in November.
Each weekly meeting participants will receive access to a team of coaches and mentors in fields such as marketing, public relations, public speaking, product development, legal and accounting. Each meeting will focus on one mini-subject and one big topic, as well as coaching and peer feedback on business strategies as part of each week's homework assignment. Find more information and an application online at www.gorgebootcamp.com.
Points for sustainability: Applications for the 2013 Oregon Sustainability Awards are are being accepted by Business Oregon on behalf of Governor John Kitzhaber and the Oregon Sustainability Board until Aug. 14.
Oregon Secretary of State Kate Brown and the Oregon Sustainability Board will honor leading Oregon companies or organizations for their commitment to sustainable business practices at the 25th Northwest Environmental Conference and Tradeshow sponsored by the Northwest Environmental Business Council (NEBC) and Associated Oregon Industries (AOI) Dec. 10 and 11.
More information and downloadable applications are available on the Business Oregon website. Applications must be received by 5 p.m., Wednesday, Aug. 14, 2013. Applicants should expect a response about two months after the deadline.