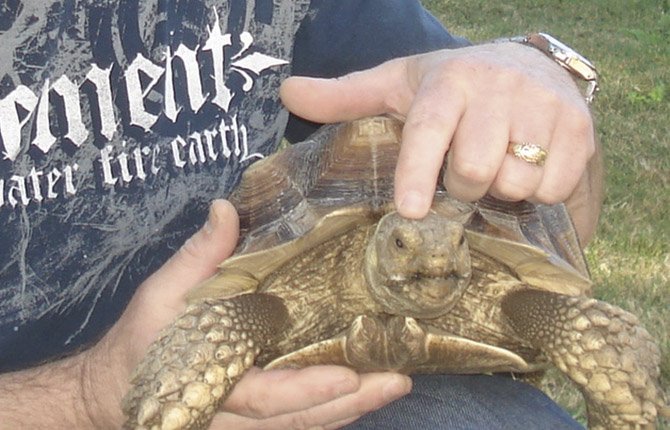 The Dalles — Pee Wee, a young sulcata tortoise, is back nibbling the dandelions in his yard after going missing for over a month.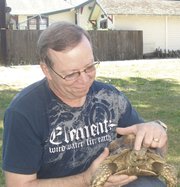 It was a clear case of skullduggery when he went missing June 27, owner Jim Frakes said. He went outside that day to check on his beloved pet — the best one he's ever had — and found no tortoise, just the unclipped dog harness and attached rope that was normally attached to Pee Wee to keep him in the yard.
Frakes realized there was no way the tortoise, curious and clever as he is, could have freed himself from his harness. The theft threw Frakes into a funk, and his six grandkids were bereft.
"They told me, 'Papa, he should've kicked him and ran.'"
Fast forward to Friday, Aug. 2, when Sharlene Bonham glanced out her window and was so unbelieving of what she saw that she called her son Ryan over to take a look.
"I said, 'Look at this. Is this a turtle?' He says, 'Yes, this is a big turtle.'"
She went outside and shooed Pee Wee back in her yard, enticing him with lettuce.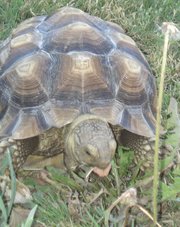 "He was so pretty, They're not from around here," she said with understatement. "I've never seen one that big."
"I took a picture of him on my cell phone because I knew nobody would believe me," she said. In fact, earlier that day, she'd seen a large doe in the street. "So then we see a turtle. I thought I was losing my mind."
The city's animal control officer, Chelsee Hudson, responded to the tortoise sighting, at the corner of 13th and Court streets. When Hudson arrived, the animal was heading rather purposefully down the sidewalk. "He kind of was on a mission, I guess," Hudson said of the surprisingly fast-moving tortoise.
She took it to Home at Last. On the way there, an alert officer, Det. Chris Simonds, got on the radio and recalled the tortoise theft from a month earlier.
Soon, Frakes was reunited with his buddy.
He got Pee Wee when he was just a hatchling, no bigger than the face on a man's wristwatch. He weighed less than one and a half ounces.
That was six years ago. Now, Pee Wee weighs six or seven pounds, and he's as big around as a large dinner plate. But, for perspective, he's just a kindergartener, and has a lot of growing to do yet.
When he's 15 or 16, he'll weigh 100 to 150 pounds, and will have to be hauled around in a wheelbarrow. His breed, native to the southern Sahara Desert, is the third largest tortoise species in the world. He'll live to be about 100 years old.
"He's going to have to go to one of my kids. They don't know it yet," Frakes said.
Until quite recently, Pee Wee was an indoor pet who had the run of the house. But Frakes always knew he would have to move him outside someday, since sulcata tortoises are very powerful, very determined and very curious, and will dig their way through a wall given enough time.
"They just are strong, they just don't ever give up." Plus, he said, "You can't housebreak a tortoise."
So, about a year ago, Pee Wee became a part-time outdoor pet.
"I went down to the pet store and got him a dog harness because I didn't want to drill a hole in his shell."
"I hooked him up and got him on a line, so he could do his tortoise thing. They are like cows. They walk and graze." Oh, and they dig holes.
Frakes even got some film of the dirt flying as Pee Wee rapidly dug himself a hidey-hole under the shed.
He's curious and will inspect any new item in the yard, and if there's an enclosure, he's going to want to know what's in it.
They're also climbers. When he was just a speck, Pee Wee once got himself on top of a rock that was as big as he was.
"I still to this day want to know how he did that," Frakes said.
He's not a biter, and when a reporter tried to rub his head, he didn't go on the offensive, but retreated into his shell. But he's happy to have Frakes give him loves, and even turns his head when Frakes announces he has food. Treats include tomatoes, cucumber and lettuce. "He likes romaine."
"He's very prehistoric, isn't he?" Frakes said. Pee Wee's legs are covered in a thick defensive system of pointy nobs, but the bottoms of his feet are surprisingly cool, smooth and soft.
When Pee Wee made the move to being outside around the clock, Frakes said he worried about "the normal things: dogs, cats, birds." But in the back of his mind, he also worried about human predators. Sure enough, barely a week after he became a full-time outdoor pet, he went missing.
"One day I went out and there was his harness all laid out and he was gone."
He called police, and credits them with straight-faced professionalism as they took the unusual theft report. "They didn't laugh," he said. "They took it seriously.
"I realized the odds of getting him back were pretty slim and after awhile I lost hope," Frakes said. "It was tough. I just got depressed. Put in all that time and energy. I just love him. I couldn't stand the thought of people not taking care of him."
But then, "A couple days ago I was in the yard and I got a call from Home at Last and they had a tortoise down there."
He had told police in June that if a tortoise ever turned up, it was bound to be his.
Frakes figures Pee Wee either escaped from his captors, or the people who stole him simply let him go.
He's happy to report that Pee Wee is in the same condition as when he went missing.
Frakes also thanked the police, Home At Last, and Bonham for helping reunite him with his tortoise.