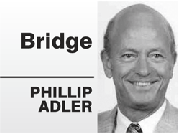 Patti Stanger, who tries to find romance for millionaires, said, "If you're going to get engaged, make sure you've talked to your partner about life together in the years to come."
If you're forming a new bridge partnership, make sure you discuss as much as possible, especially leads and signals.
When an expert defends with a less experienced player, he can usually signal to tell his partner what to do. Of course, this assumes that the less experienced player is watching and interpreting correctly.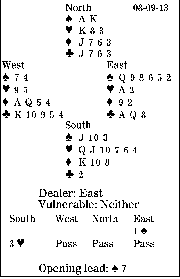 However, there will be deals in which the expert will not be sure which way to turn. Today's is an example. South is in three hearts. West leads the spade seven. South wins on the board and calls for a low trump. What should happen after that?
South bravely found a three-heart weak jump overcall. West wanted to make a negative double, but was not strong enough. And East felt too weak to balance with three spades. Note that double-dummy (everyone knows all of the cards), to defeat four spades, South must obtain a club ruff.
To beat three hearts here, the defenders must take one heart, two diamonds, one club and a diamond ruff. So, East must take the second trick with his heart ace. Then West should drop the nine, a suit-preference signal showing strong diamonds. Next, East will shift to the diamond nine. West will take two tricks in the suit and give his partner a ruff. Finally, East will cash the club ace for down one.
If you and your partner watch the cards closely, use low trumps to send suit-preference signals.