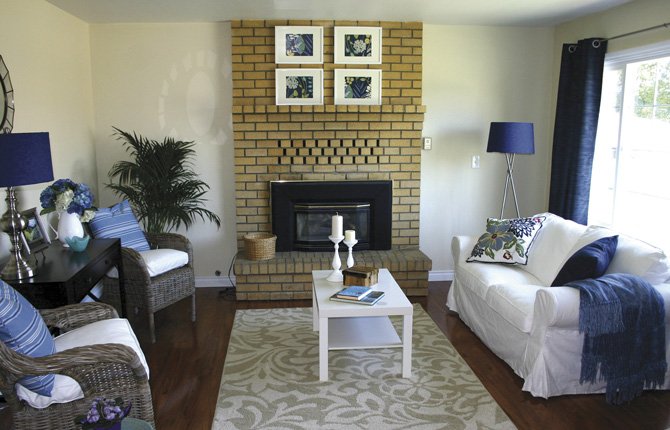 Columbia Cascade Housing Corporation is focusing on affordable workforce housing in its latest project, but while most of the nonprofit organization's development deals with multiple apartment units, this endeavor is focusing on one single-family home at a time.
The current project is a 1950s-vintage home at 1712 Trevitt St. The three-bedroom, one-bath, home with a daylight basement has been completely remodeled from top to bottom, according to Dave Peters, the project manager.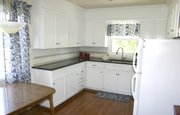 Improvements include new Hardi-plank siding, energy efficient windows, a new heat pump, new electrical panel, all-new flooring and major upgrades to the kitchen and bathroom. Features include a gas fireplace, laundry and shop.
Ruby Mason, the soon retiring executive director of Mid-Columbia Housing, has been closely involved in the project, and was on hand Thursday for a tour of the home, which will be on display during an open house this Sunday, Aug. 11, from 1 to 3 p.m. "Its' been staged so people can get an idea of how their furniture can work," Mason said.
The project has been quite a while in the making and started with a grant from Oregon Housing and Community Services to help housing resource centers.
"They wanted to know what we could do to revive and help the nonprofit and the community," Mason said.
The project started with the purchase of two building lots on May Street in Hood River.
"Two families were able to get Rural Development direct loans," Mason said, to buy the lots and build their homes. "They could get construction-to-perm loans. That's usually the hard part for low- to moderate-income families. They can't get construction loans."
Unfortunately, Mason said, the resources available from that program are drying up, but USDA Rural Development-guaranteed loans are still available.
"That's what we are hoping most families can get here," she said.
From the proceeds of the lot sales, Columbia Cascade Housing was able to purchase the Trevitt Street house for $108,000 and finance much of the renovation. The project was located in The Dalles, partly because the organization was able to find an affordable home to remodel.
"It's difficult to find houses at a really low price," Mason said. Houses that are for sale on the general market at prices affordable to low- and moderate-income families usually require significant repairs, which can require additional financing.
The financing gap was filled in part by a $2,500 donation from the Bank of America Charitable Foundation. The Dalles Bank of America Branch Manager Nick Hess contacted Mason with the funding opportunity.
"He's very good about doing that kind of thing," Mason said.
The idea behind the lot sales in Hood River and the home remodel here is to provide affordable, well-maintained housing for low- and moderate-income workers.
"[Columbia Cascade's] affordable home ownership program helps stimulate and strengthen our local economy by creating jobs, attracting employers and employees, improving neighborhoods and increasing consumer spending," an announcement on the subject said. "Through its Housing Resource Center, CCHC currently provides homebuyer education, pre-purchase counseling, foreclosure prevention and funds for necessary homeowner repairs. The home on Trevitt is the first home CCHC has completed as affordable home ownership for the workforce in The Dalles."
Applications and information on Rural Development-backed loans will be available at the open house.
"But if you're serious, you should make an appointment with Dave [Peters] to talk," Mason said. "The first qualified buyer is going to get to be the one to buy."
Columbia Cascade acted as the general contractor on the project, but a lot of local construction businesses were hired as part of the project, including Bustos Construction, Adams Design, Jenkins Electric, Two Dogs Plumbing, Obreros Lawn Maintenance and NW Fiberglas. The Columbia Cascade maintenance crew and countless hours of volunteer labor were also key to getting the home ready for occupancy.