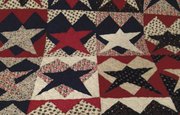 A classmate of Christopher Kessell is organizing a fundraiser to cover medical bills and equipment needs that are related to a February car crash that left him paralyzed from the waist down.
Katie Kelley from the class of 2003 at The Dalles High School is working with Burgerville for the Aug. 12 event that includes a raffle drawing. Tickets for numerous prizes are now available at the restaurant, 118 W. Third St., or by calling Kelley at 541-965-0609.
"We just want to help Chris out," she said. "He was in the hospital for four months but is now at home in Pine Hollow and getting really great support — but there are going to be ongoing expenses."
One of the featured prizes for the raffle is a red, white and blue quilt made by area resident Genevieve Arthur that has an interesting history. Kelley said the colorful blanket was raffled off at the July Fourth celebration in Rufus and won by Michelle Hammel of The Dalles. When she found out about the fundraiser for Kessell, she decided to donate her prize to the cause.
"It is so perfect to have something so patriotic in the raffle. It totally fits with his personality," said Kelley of Kessell, who spent six years in the Marine Corps.
On Monday, Burgerville will donate 10 percent of their sales between 5-8 p.m. to Kessell's fund. Local businesses have contributed more than 13 prizes for the raffle, including everything from meals to auto detailing, tools and skin care products.
Kessell, 28, became a Marine in 2006 and deployed to both Iraq and Afghanistan as a mechanic on Harriers, the jet that can move straight up and down, like a helicopter. He left military service in 2012 to become a student at the San Diego Golf Academy in California.
His back was broken in the solo crash that occurred in California about midnight on Valentine's Day when he fell asleep behind the wheel of his truck. The vehicle flipped end over end a few times and Kessell's condition was "touch and go" for the next 10 days.
His mother, Pam Petersen-Griffith, stayed at the trauma center with Kessell during 12 surgeries to repair numerous broken bones and other injuries. He was released in early June for a return to the family home in Pine Hollow that his step-father, Mark, had helped remodel to accommodate his wheelchair.
A donation jar has been set up at Burgerville and people may also donate to an account set up in Kessell's name at two Columbia State Bank branches, one at 500 Cherry Heights Road and the other at 316 E. Third St.