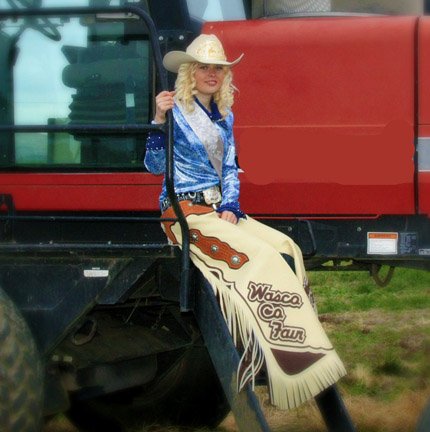 Look at any list of 4-H ribbons over the past few years and the name Calista Howell, 16, figures prominently.
Howell, this year's Wasco County Fair Queen, has been fully invested in 4-H competition at the fair throughout her childhood.
The Mosier resident gives a large share of the credit to her mother, whom she said taught her children "the value of hard work, honesty, responsibility and helping others.
"I enter horses, pigs, sewing, crafts and many, many exhibits," she said. She has participated in just about every aspect of 4-H since she was a toddler. "My main love, however, has always been horses. Obsessed is probably the correct word!"
She enjoys roping, barrel racing, showmanship, games, gathering cattle, trail rides, rodeo and much more.
With horse events starting well before the main public days of the fair, the Howell family generally moves out to the fairgrounds in Tygh Valley "lock, stock and barrel" for nine days, from the Friday before the horse show to the Sunday of the 4-H auction. Mom, Gaylene Howell, says with five children the family has been going to the fair for 24 years now.
Queen Calista plans to compete in all of her usual events, plus ride in the grand entry of the rodeo.
What's she looking forward to the most? "Probably signing autographs for the children," she said. "It's a lot of fun. I did it at the Fort Dalles Rodeo and it was so fun. I remember when I was little I always loved having the queen sign an autograph — and I still have some."
She promises lots of fun for all who come to the Wasco County Fair. Free family day is Thursday with a chance to hit the carnival midway, check out the livestock barns, enter the Best Cookies (cherry pies Friday and cakes Saturday) in Wasco County contest, take part in Kids Day events, take in the 4-H fashion show and the senior picnic in the park and more.
Rodeo action happens Friday and Saturday, followed by dances featuring Brewer's Grade on Friday and the Jager Bumz on Saturday at the Cascade Corral stage.
Sunday brings the free breakfast, religious services and the 4-H and FFA livestock auction, followed in the afternoon by the demolition derby.
"Being the Wasco County Fair and Rodeo Queen has been a highlight in my life," Howell said. "I have loved representing the fair and rodeo that I have participated in all of my life. We have the most amazing setting at Hunt Park and the most beautiful fairgrounds in the state of Oregon.
"Wasco County Fair and Rodeo is sure to be the highlight of your summer, just as it has been for me and my family for many years."