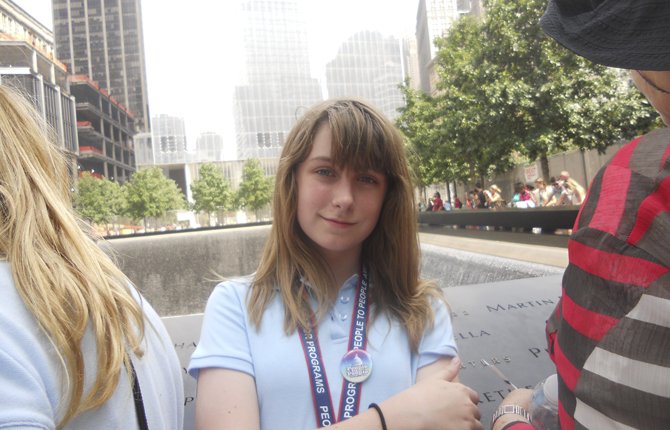 Leadership qualities and good grades can help a student go far.
For Savannah Deitz of The Dalles, they literally helped her go far — all the way to Washington, D.C.
Savannah, 11, was nominated by teacher Steve Chance to participate in the People to People Leadership Ambassador program and she received a letter stating that because of her good citizenship and academic merit she was being invited to go on a seven-day trip to Washington, D.C., New York City and Philadelphia.
"They ran around three different cities in a week, so she really had quite the time," her mother Missy Dunagan said.
Savannah said she enjoyed seeing landmarks like the White House, the Empire State Building and the Liberty Bell. Some things, she said, seemed different in real life than they did on TV.
"It was smaller than I thought it would be," she said of the capitol building in Washington, D.C.
She said she was disappointed that they didn't get to go inside the White House, but there was plenty more to see, like the Lincoln Memorial and the changing of the guard at the Tomb of the Unknown Soldier.
"We went to the Smithsonian, and we only got to see the air and space part, but it was cool," she said.
In New York City Savannah and the other Leadership Ambassadors saw the Statue of Liberty, Times Square, Top of the Rock, Central Park, the Brooklyn Bridge, the United Nations and the Broadway Play Matilda.
She also saw the Empire State Building, but what she remembers most is what happened at the fancy restaurant they stopped at afterward.
"There were cockroaches everywhere," she said. "We saw the first one and the waiters just ran up with a napkin and grabbed it and threw it away, all professional."
In Philadelphia the group saw historical landmarks like the Liberty Bell and various museums.
"We did so much stuff I can barely remember," Savannah said.
The trip was billed as an opportunity for young students to experience personal growth through travel, learn about what it takes to be a leader in today's world and discover their own leadership style.
One of the things Savannah said she enjoyed most was making friends from other states who were also participating in the trip.
Her mother said she looked forward to Savannah's nightly calls to give her a rundown of the day's adventures.
"Every night she called me, and the first night she was extremely tired, so that was short, but every other night I had to end the call because she just kept talking," Dunagan said.
She said she was proud of her daughter for being nominated by her teacher to participate in the program. The trip was expensive — over $2,000 — but Dunagan said she was glad Savannah got the opportunity to go on the trip.
People to People was started in 1956 by President Dwight D. Eisenhower, who thought the best way to promote peace was for everyday citizens to be able to visit different countries and get to know the people. Originally a government program, today it is run by a for-profit "education travel agency" called Ambassadors Group. The Leadership Ambassadors program, for students in grades five through 12 interested in learning about leadership, is one of several travel programs the company offers.