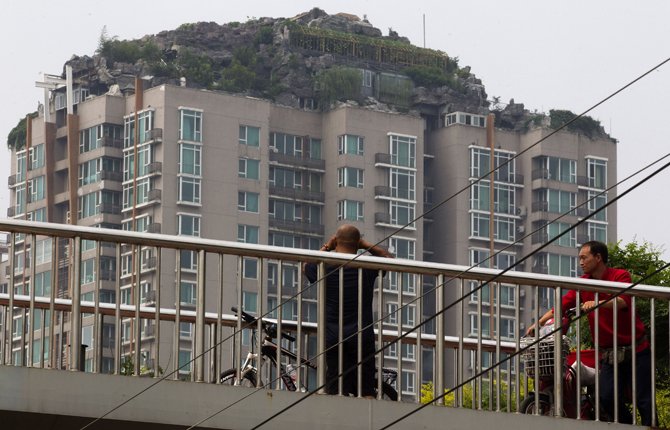 Authorities crack down on illegal rooftop villa
BEIJING (AP) — A medicine mogul spent six years building his own private mountain peak and luxury villa atop a high-rise apartment block in China's capital, earning the unofficial title of "most outrageous illegal structure." Now, authorities are giving him 15 days to tear it down.
The craggy complex of rooms, rocks, trees and bushes looming over the 26-story building looks like something built into a seaside cliff, and has become the latest symbol of disregard for the law among the rich as well as the rampant practice of building illegal additions.
Angry neighbors say they've complained for years that the unauthorized, 800-square-meter (8,600-sq. feet) mansion and its attached landscaping was damaging the building's structural integrity and its pipe system, but that local authorities failed to crack down. They've also complained about loud, late-night parties.
Haidian district urban management official Dai Jun said Tuesday that authorities would tear the two-story structure down in 15 days unless the owner does so himself or presents evidence it was legally built. Dai said his office has yet to receive such evidence.
Abducted girl resting at home
SAN DIEGO (AP) — A 16-year-old girl who was rescued during an FBI shootout with her captor in the Idaho wilderness is resting at home with family and friends to begin what her father says will be a slow recovery.
"She has been through a tremendous, horrific ordeal," said Brett Anderson, who declined to answer questions after reading a brief statement Monday. He pleaded for privacy.
Hannah's world turned upside down Aug. 4, when, according to authorities, a longtime family friend abducted her after killing her mother and younger brother and abandoning them in his burning house in Boulevard, Calif. James Lee DiMaggio, 40, died in the shootout Saturday with FBI agents at an alpine lake.
Officials say Hannah had no idea her mother and brother were dead until she was rescued.
Britain calls attack cowardly
MAIDUGURI, Nigeria (AP) — Britain's foreign office minister for Africa is condemning as "contemptible and cowardly" an attack on a mosque in northeastern Nigeria in which suspected Islamic extremists killed at least 44 worshippers.
Security agents say attackers struck under cover of darkness as residents were saying their dawn prayers at around 5:30 a.m. Sunday at Konduga town.
They said another 12 civilians died in a simultaneous attack outside Maiduguri.
"Attacking innocent people in a place of worship is a contemptible and cowardly act," Mark Simmonds said Tuesday.
He said Britain "stands with the government and people of Nigeria."
Sunday's attacks are the latest in a series of violent acts blamed on religious extremists wanting to oust the government and impose Islamic law.
Nuke unit fails safety inspection
WASHINGTON (AP) — An Air Force unit that operates one-third of the nation's land-based nuclear missile force has failed a safety and security inspection, marking the second major setback this year for a force charged with the military's most sensitive mission, the general in charge of the Air Force's nuclear force told The Associated Press on Tuesday.
The failure was recorded by the 341st Missile Wing at Malmstrom Air Force Base, Mont., which is responsible for 150 Minuteman 3 nuclear missiles that stand on 24/7 alert for potential launch against targets around the globe.
Lt. Gen. James M. Kowalski, commander of Air Force Global Strike Command, which is responsible for the Minuteman 3 force as well as nuclear bombers, said the 341st wing failed a "small team exercise" as part of a broader inspection. The exercise failure meant the whole inspection was a failure, he said.
Kowalski said this did not call into question the unit's safe operation of nuclear missiles but was its second failure of a safety and security inspection in just over three years.