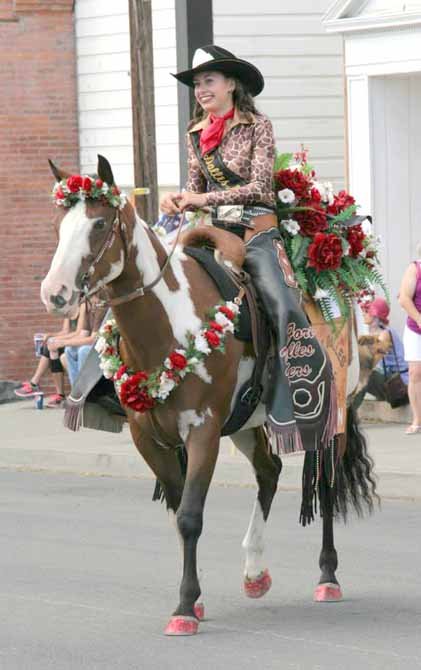 The Dalles — Since September, Carsen Cordell has been living a lifelong dream atop of her throne as queen.
For the past 11 months, Cordell, an incoming senior from The Dalles Wahtonka High School, has duly performed her duties as a representative of the Fort Dalles Riders Association.
As queen, Cordell has attended all of the Fort Dalles Days Rodeo events and all of her club activities and she is moving through her schedule with many more still to come.
Although fun in many ways, she says her job is not easy by any stretch.
"Some people don't realize that rodeo queens don't just participate in rodeos and parades," Cordell said. "We host luncheons and coronations that visiting royalty come to, as well as going to parties and speaking on the radio. With all of these things going on every weekend, it is rewarding to have all those little kids look up to you. During rodeos and events I always carry autograph sheets to sign for not only the kids but for anyone who wants one."
Last September, Cordell and five other young women competed for the FDRA Junior Queen crown and she was named by the organization as its queen for the year.
The selection process was extensive for all six participants, as they went through an interview, demonstrated their riding skills in a pattern and a rodeo run in, and then stood in front of all the judges to deliver a speech and answer questions in front of a large crowd.
She called it a great experience that is similar in ways to the local Junior Miss program, but with horses.
After gaining her crown, Cordell said that people in the community have begun to recognize the great group of youth riders in The Dalles.
"Being a rodeo queen is really fun," she said. "You learn how to present yourself well, practice public speaking, and all sorts of horsemanship skills you might not already know. Since I grew up here, all of my friends and people I know started to realize how much work it actually takes to represent a club like this."
Cordell was born and raised in The Dalles and has been riding her entire life.
She is an active member of The Dalles Wahtonka's Equestrian Team and is involved in a 4H program.
This past season, Cordell was named the team captain of the team and she has won many awards for her riding expertise ranging from dressage to working cows.
In her run as queen, the Eagle Indian student-athlete has won every judged parade this year in the queen category.
She raised the money to replace the flowers for the Fort Dalles Riders Club, fixed and upgraded the chaps, had some custom pads made and designed and had the serape made for use by future queens.
In addition, the horse she is now using for all of her queen activities is one purchased at the last auction performance horse sale.
She also uses this horse for all her cow events and her timed events like barrels and poles.
"I wouldn't be able to do any of this without the Riders Club itself," Cordell said. "The Riders Club is a great family friendly association that works their butts off to ensure that every equestrian can ride and better themselves."
Cordell says this is accomplished by maintaining safe grounds and equipment, and putting on as many play days and horse shows as possible.
The club also has a youth oriented Junior Riders program that helps kids with their horses to learn valuable skills to be wonderful horsemen.
"I am honored to represent the Fort Dalles Riders Association this year," Cordell said.
She just made an appearance at the Wasco County Horse Fair and last weekend, rode in the Threshing Bee events in Dufur.
Her mother Marie, also a long-time horseman, said the queen experience has gone well.
"The Fort Dalles Rodeo Association asked her to try out because she is representing so well," Marie said.
Carsen will not try out for any queen activities this year, but will in the future.
Her focus in the fall of 2013 is on academics in her senior year with an emphasis on preparing for college.
She does plan to do OHSET again this winter and has a new young horse for some of her equitation events that she showed at fair and that she is performing well with overall.
"Her attitude at fair was amazing, she focused on the things she accomplished, the fun of it all and not on the mistakes, struggles or frustrations," Marie stated.
The FDRA is a non-profit organization that is dedicated to the promotion of safe horsemanship for all ages, riding disciplines and skill levels since 1934.
Tryouts for queen are upcoming in a few weeks, so interested local riders can visit the FDRA website at fortdallesriders.com for more information.