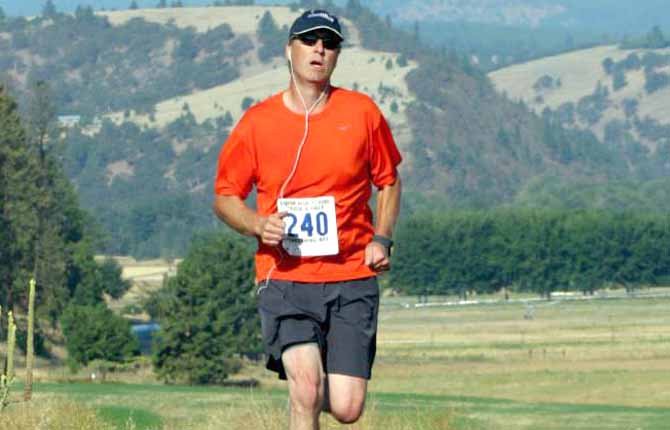 Under the hot sun and with the Threshing Bee festivities in the air, 39 local runners were on hand this past weekend for the annual Dufur Valley 5k and 10k run/walk, and many of the top harriers from across the gorge hit the pavement with some top times in mind.
Of the 24 participants in the 5k event, there was less than five minutes separating the top-6 in the overall standings.
Coming out ahead was Mark Johnson, who hustled past everyone with a final marker of 18 minutes and 58 seconds, besting the next competitor, Randall Jones, who crossed the line in 19:26.
Johnny Nelson came in third place at 20:14, Ethan Shubert was good enough for 22:37, Maddie Wood had a 22:49 and Clayton Ringer finished in sixth place in 23:22.
The Dalles Wahtonka athlete Katie Burns (24:47), Molly Nelson (24:49), Scott Bryant (24:50), Tai Rodgers (27:19) and Olivia Allison (28:14) and Brenan Allison (28:14) rounded out the 12 lowest times of the bunch.
Finishing in a tie for 13th place with times of 28:16 were the duo of Tom and Lisa Harris.
Judy Richardson had a 28:43, Julie Johnson kicked in a 34:21 and Lodell Halvorson (34:21) tapped out in 17th place.
In 18th place was Hailey Halvorson with a 35:02, Alec Smith motored in at 36:01 and the Terry trio of Andrea, Lori and Alex Terry finished in less than 46 minutes.
Andrea had the best time of 36:01, Lori followed in 42:31 and Alex picked up a 45:09.
Zora and Dan Richardson capped the group with identical marks of 49:07.
Dufur High School graduate and event coordinator, Alex Dillard, did not show any rust in his 10k attempt, as he scorched the field of 15 with a competitive time of 30:48.
Gary Daubenspeck made a good name for himself in the 10k event where he stopped the watch in 37:07 for second place.
TDW assistant cross country coach, Mandi Williams, rattled off the best overall running time of the seven women penciled in with a marker of 43:33 for top honors.
Grace Neal ended up fourth in 45:26, Travis Dray added a time of 45:45 and Brad Anderson (45:51) capped the top-6.
Sheila Burchell wound up sixth in 50:54, Brian Mears tacked on a 51:44, Erin Dray scored a 52:49 and Leona Egeanel notched a 53:08.
Dionne Allison had a total of 54:31. Jerry Wilson hit at 55:25 for 12th place and Albert Olson made it home in 1:01.43.
Shilah Olson ended up being tied with a 1:01.43 and Lauren Morris was the final participant to cross the tape with her marker of 1:02.10 for 15th place.
There two races left this month for these harriers to get back into the swing of things.
On Aug. 17, the Wasco County Fair run is on tap, and two weeks later, the annual Eagle Indian run is set for Aug. 31 at Sorosis Park in The Dalles.