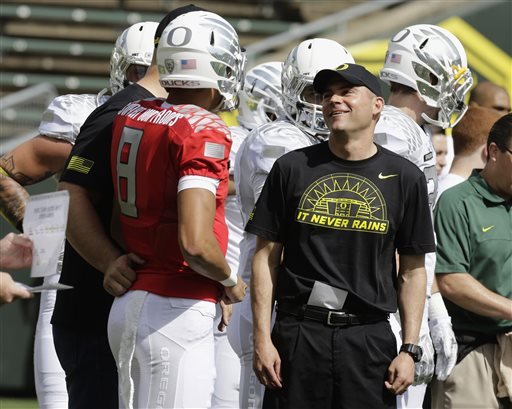 EUGENE – The Oregon Duck is a naughty fellow in depictions inside the opulent new football operations center at the University of Oregon.
He pokes two fingers in the eyes of the UCLA bear. He punches the Arizona Sun Devil in the jaw.
He tosses the Oregon State Beaver away with the food scraps.
Over the serving line in the athletes' dining room in the football center, players are admonished — in yellow neon letters — to eat their Pac-12 enemies.
The messages of the building and grounds, fastidiously designed and executed, is clear. We're dominant, intimidating.
A conference room on the fourth floor — encased in black glass — is literally called the "War Room."
UO football officials say it's all in fun.
"Those are cartoons," veteran UO assistant coach Gary Campbell said. "I don't think our kids pay any attention to them. I'm sure every team across the country has something similar to that.
"That's not what we teach our players. We don't say that's how we treat our (opponents) — what we got there on the board. We teach our players in the classroom, and it has nothing to do with the cartoons on the walls," he said.
Building character has to be an intentional pursuit, said a retired U.S. Army lieutenant colonel who taught ethics to upcoming military leaders at West Point Joe Doty.
The head coach has to sit down with the coaching team and spell it out.
UO Head Coach Mark Helfrich said his program continuously teaches sportsmanship.
"How we want to represent our university, we want to represent our team, we want to represent ourselves as men of Oregon, men of character, and want to play hard and want to play the right way. It's such an ongoing thing," he said.
Helfrich said that the poking, punching and eating-your-enemies messages don't carry over onto the field.
But academics and others who study collegiate football say that, too often, the only morality the sport teaches nowadays is winning.
Winning at all costs.
Doty said that looks ugly.
"There's a zillion forms of cheating" in college football, he said, including "unsportsmanlike behavior, taunting, fixing grades, taking money."
In June, when the results of a 27-month NCAA investigation into UO recruiting practices named the UO football program a "repeat offender" but levied a light penalty, some Duck fans wrote on blogs and on comment sections that the Ducks "won the day."
At the UO, mega-donor Phil Knight donated a shimmering, glass-encased, three-story study center for student athletes, in addition to the new, six-story black glass football operations center.
How do you teach humility in the context of such world-class facilities?
"There has to be a relationship," Doty said, "where this quarterback is a great quarterback, and he's going to win a Heisman Trophy — blah, blah, blah, blah — but he's also still a student at the University of Oregon, and he needs to behave and be treated within the classroom and in the community as just another guy. Most importantly, he needs to understand that."
The lives of football players are exceptionally demanding and the players need the extra back-up to succeed, their coaches say.
Too late?
But fretting about character building, education of athletes and the ideals of amateurism in collegiate football is an outdated pursuit, some researchers say.
"That horse has left the barn; you can't put the genie back in the bottle," said Dave Ridpath, an assistant professor of sports administration at Ohio University. "Most of your big-time schools don't really have control" over their football programs, he said.
The programs are self-perpetuating money machines, hiring the crème de la crème of coaches, building palatial facilities — all with the goal of creating winning teams — to draw increasing ticket sales, television contracts and donor gifts, observers say.
There's no going back, Doty said.
"The train already left the station. The avalanche is already rolling down the hill. You're not going to stop it," he said. "So, given where we are, what can we do to make this the best experience for everybody involved? The onus is on the sports administrators. There's no question. The onus is on them because they are the haves."