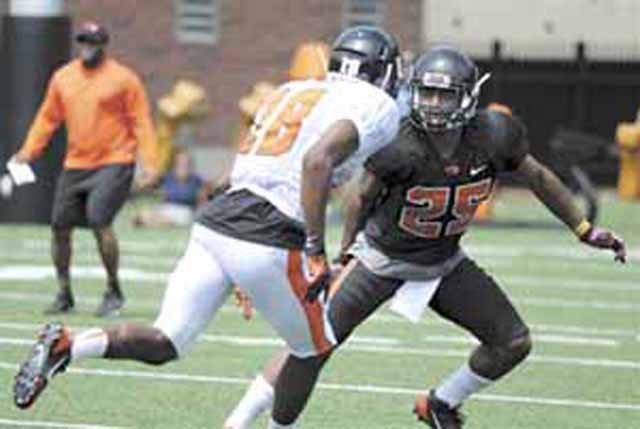 Corvallis (AP) – The game was minutes old and Ryan Murphy and his Oregon State defensive teammates were gasping for air.
Arizona State had wasted little time in unleashing its spread offense in Corvallis last season.
The Sun Devils recovered a fumble for a touchdown on the third play of the game, then proceeded to drive 75 yards in nine plays for another TD.
By the end of the first quarter, ASU had 149 total yards and led 16-10.
"They were just gashing us," Murphy, a safety, said. "And we couldn't catch our breath."
The Beavers eventually did and pulled away for the win.
Similar scenarios will no doubt occur every weekend in the Pac-12 Conference this season.
Play nearly any team and your defense will get a workout.
The offenses will come with speed, huddle-free drives keeping the tempo pumping.
Spread teams will try to play in space and strike with big plays.
How well a defense can counter those relentless attacks means the outcome of most games and ultimately the season.
"Overall, defenses are just evolving like offenses evolve," Murphy said. "You've got faster backs, quarterbacks are faster. Overall, the offenses are just more spread out so guys have to run to the ball."
Schemes might need to be tweaked or even turned inside-out.
Murphy pointed to the NFL and how a team such as the Green Bay Packers has tried a 1-5-5 in an attempt to slow offenses.
The Beavers have already started making a few changes.
"What offenses around the world are doing now, you've got to be versatile and diverse in what you do and how you approach the game," OSU coach Mike Riley said. "So with that in mind we added some stuff a year ago and did some stuff that was new and out of the box for us and we're continuing with some stuff like that and adding some stuff that we think will be a good addition to these looks and packages that we have."
The new-look defenses often require a new style of player.
Athletes with versatility are in demand.
They have to be able to run and play in space.
"When you look at this thing defensively, what people have had to do is incorporate more guys, whether they're an outside linebacker in a 4-3 style defense or a safety," Riley said. "Almost interchangeable bodies sometimes. We can take a guy like Ryan Murphy and he can look like an outside linebacker as a nickel player or he can play free safety.
"So you're looking at more versatile, more athletic people throughout your defensive scheme."
A linebacker might move up to the line, put his hand to the turf and rush the passer.
The Beavers are currently tinkering with the idea of using a linebacker or two as pass-rush specialists.
Dyllon Mafi, a 6-foot-2, 224-pound senior, could get a shot.
"Mafi is a versatile guy and he might see some lineman play as a specialist, like a third-down guy, because he's got some pass-rush skills," Riley said. "He's pretty slippery off the edge and so he might find a way to get on the field on third down."
The Beavers are already set with certain players, such as Murphy, defensive end Scott Crichton and outside linebackers Michael Doctor and D.J. Alexander.
They all show the speed and athleticism necessary to stay on the field against the Pac-12 offenses.
"It's been an interesting evolution," Riley said. "There's still big people that need to play on the interior of the defense, but your edges, if you're going to lead the league in sacks then having a great edge rusher is always at a premium and very important. Those kinds of people give you tons of flexibility because you can put pressure on the passer with a speed rusher or a couple good defensive ends.
"Like offenses have become diverse — we're going to see six different versions of the spread offense in our league — you've got to have diversity on defense, too."